Why John Wooden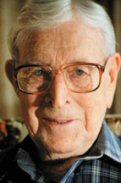 John Wooden spent his life reading, documenting and collaborating wisdom. He wrote 14 books (12 after he turned 90). He studied everybody from Confucius to Aristotle to Shakespeare to Lincoln and many in between. His 42 years of teaching basketball are well documented.
As a Division One Men's College Coach his teams:
Won 10 NCAA Championships (Second best 5 by Mike Krzyzewski)
Won 7 Consecutive NCAA Championships (Second best 2 by 5 other coaches)
Won 38 Consecutive NCAA tournament victories (Second Best 13 also by Coach Wooden)
Had 4 Undefeated seasons (Second best 1 by four other coaches)
In 2009 Sporting News Magazine: published their list of the 50 greatest coaches of all time, as selected by a panel of 118 Hall of Famers, championship coaches and other experts. Coach Wooden was chosen the greatest coach in the history of American Sports with 57 first-place votes from the panel. Green Bay Packers great Vince Lombardi came in second place in SN's rankings, picking up 20 first-place votes.
On July 23, 2003, John Wooden received the Presidential Medal of Freedom, the nation's highest civilian honor. http://en.wikipedia.org/wiki/John_Wooden
That being said he was much more than a basketball coach.
His 35 years as one of America's premier authors, life coaches and public speakers after he retired at age 65 until he passed at 99 are a bit of a hidden treasure.
Jim Collins, Ken Blanchard, Steven Covey, John Maxwell and Bill Gates sought his wisdom to name just a few.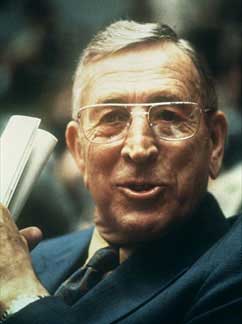 His writing, in the most concise format, summarizes and secularizes the essence of universal truth which resonates in all the great thinkers and religions of world history.
His content is so effective because of its simplicity, truth, conciseness and directness. It represents "true wisdom" gleaned through 80 years of study, practical experience, constant improvement and a life well lived focused on consideration and service for others.
His Pyramid of Success, 14 years in development, is complete. There is no other behavioral component needed for personal or professional improvement, great leadership, teambuilding and true success . Yet it is so concise that it provides a workable blue print to drive success behaviors and build team culture on a daily basis. Additionally, it causes you to think, not tell you what to think.
His lessons improve people and performance; proven by his work and results. It is a proven recipe not a theory.
Tens of thousands of successful people, across all walks of life, and for over seven decades, have used The Pyramid of Success to help them reach their full potential.
We have been teaching John Wooden's philosophy - THE WOODEN WAY all over the United States to audiences ranging in age from 6 to 80. Many of the people that we have worked with and continue to work with have never heard of John Wooden. The one thing all of our students have in common is that they understand and believe in his message and principles and know that the application of his approach will improve every phase of their life. They recognize the authentic wisdom of a true American hero and the value of a life that was surrounded by love and balance
As his grandson- in- law and mentee for thirty years my goal is to share his acquired wisdom in a manner that is deliverable and easily accessible to inspire all.