DON'T PERMIT FEAR OF FAILURE TO PREVENT EFFORT. WE ARE ALL IMPERFECT AND WILL FAIL ON OCCASIONS, BUT FEAR OF FAILURE IS THE GREATEST FAILURE OF ALL
This often used quote of Coach Wooden's summarizes the key element in his psychological approach to coaching, which led to so many great clutch performances.
Coach Wooden's teams at UCLA won seven consecutive national championships (a 38 game winning streak in national championship tournament play) with three different groups of players.
One thing that was consistent was the mental approach that created perfection under pressure.
In his book, The Essential Wooden: A Lifetime of Lessons on

Leaders and Leadership

with Steve Jamison, Coach described his approach:
I removed stress - the kind that comes from a fear of losing or an overeager appetite to win - by focusing exclusively on improvement and teaching the team that ongoing and maximum progress was the standard, our daily goal.
I never mentioned winning or beating an upcoming opponent.
In my opinion, our team's ability to perform consistently near its highest level of competency in tight situations came in large part from my philosophy - hat is, my definition of success. Of the many things I taught, it was perhaps at the top of my list: "Success is peace of mind attained only through self-satisfaction in knowing you made the effort to do the best of which you're capable."
Every member of our team understood this was my highest grading standard. Not the score, not titles, not winning a championship. Rather, "Be able to hold your head high because you made the effort to do your best."
When those on your team accept this idea - not just accept it but really believe it - they are in complete control of their success because the quality of their effort is up to them.
It's not up to the opponent, fans, the media or anybody else. We may not control the outcome, but we can control the input - our effort.
Thus, in a critical situation, fear of losing, the outcome and the nervousness it produces are minimized.
In fact, for me, both as a player and a coach, nerves didn't exist.
I believe I instilled the same steadiness to a large degree in our players.
A talented and well-trained team embracing my philosophy is fearless and goes into battle fiercely dedicated to giving its total effort.
Clutch performance occurs when the total focus is on the effort and thus fear of failure is eliminated.
We are focused on shooting the free throw not on hoping it goes in.
Yours in Coaching,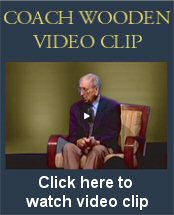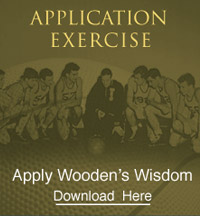 COACH'S
Favorite Poetry
AND PROSE


FAILURE DOESN'T MEAN YOU'RE A FAILURE
Failure doesn't mean you're a failure,
it does mean you haven't succeeded yet.
Failure doesn't mean you haven't accomplished something,
it does mean you have learned something.
Failure doesn't mean you've been a fool,
it does mean you have a lot of faith.
Failure doesn't mean you've been disgraced,
it does mean you were willing to try.
Failure doesn't mean you don't have it,
it does mean you have to do something in a different way.
Failure doesn't mean you're inferior,
it does mean you're not perfect.
Failure doesn't mean you've wasted your time,
it does mean you have a reason to start fresh.
Failure doesn't mean you should give up,
it does mean you should try harder.
Failure doesn't mean you'll never make it,
it does mean it will take a little longer.
Failure doesn't mean God has abandoned you,
it does mean he has a better way.
Rehana Moammadi