THE COACH A STUDENT OF PSYCHOLOGY (PIGGY LAMBERT, JOHN WOODEN'S COLLEGE COACH) – PART ONE)
Ward "Piggy" Lambert was John Wooden's college coach. Lambert coached Purdue University (1916–17, 1918–1946) to a 371–152 record in 29 seasons, including 11 Big Ten Conference titles and a National Championship in 1932. His teams were noted for their speed and effective use of fast breaks, which he developed. Lambert was also the head baseball coach at Purdue in 1917, from 1919 to 1935, and from 1945 to 1946. At one point after his retirement, both the baseball field and basketball fieldhouse at Purdue were named after Lambert.
Coach Lambert was inducted into the Naismith Memorial Basketball Hall of Fame in 1960 and the National Collegiate Basketball Hall of Fame in 2006.
Coach Lambert was a tremendous influence on Coach Wooden. Lambert wrote Practical Basketball in 1932, one of the first "bibles" of the game (a 243 page textbook). In 1966 Coach Wooden wrote Practical Modern Basketball (a 441 page textbook).
Chapter Eleven in Practical Basketball is titled: The Coach a Student of Psychology. Here is an excerpt from Coach Lambert that may be helpful to a person in a position of leadership:
"Confidence - One of the greatest factors that influences the playing capability of any athlete is confidence. The player who is confident is first of all relaxed, and relaxation is necessary in the performance of most of the rudiments of the game, especially basket shooting. Confidence increases initiative.
Overconfidence -This has the opposite effect of confidence. Players and teams going into a game in an overconfident frame of mind are self-satisfied and not aggressive mentally. Overconfident players do not try to do their best. Even the fine player who is self-satisfied becomes merely mediocre.
Fear and Worry - These are factors which destroy playing capability. An individual who fears defeat, or that he may not play well, becomes tense and lacks initiative. Some over conscientious players worry before contests are played and burn up energy in the minds of such boys. The coach must instill respect for opponents without creating fear. Respect creates aggressiveness, while fear destroys it. Too much respect for the opponents will create awe of them. Worry may not be confined to a conscientious boy who is disturbed about his own playing. Often outside factors cause player to worry, and the coach must gain his confidence. It is possible he may help the boy. Conditions at home, finances or studies are often the factors which influence the ability of players. Lack of enthusiasm in practice is an indication of a worried state of mind."
What do you do to build Confidence and eliminate Overconfidence with your team members?
Which of your team members are bothered by Fear and Worry? How can you help them?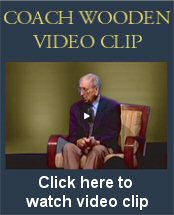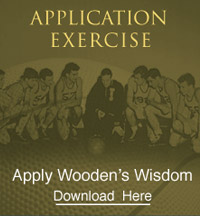 COACH'S FAVORITE POETRY AND PROSE
How Did You Die?
Did you tackle that trouble that came your way
With a resolute heart and cheerful?
Or hide your face from the light of day
With a craven soul and fearful?
Oh, a trouble's a ton, or a trouble's an ounce,
Or a trouble is what you make it,
And it isn't the fact that you're hurt that counts,
But only how did you take it?

You are beaten to earth? Well, well, what's that!
Come up with a smiling face.
It's nothing against you to fall down flat,
But to lie there-that's disgrace.
The harder you're thrown, why the higher you bounce
Be proud of your blackened eye!
It isn't the fact that you're licked that counts;
It's how did you fight-and why?

And though you be done to the death, what then?
If you battled the best you could,
If you played your part in the world of men,
Why, the Critic will call it good.
Death comes with a crawl, or comes with a pounce,
And whether he's slow or spry,
It isn't the fact that you're dead that counts,
But only how did you die?

Edmund Vance Cooke (1866 to 1932)