INITIATIVE AND TEAMWORK (WARD "PIGGY" LAMBERT - PART FIVE)
John Wooden's college coach at Purdue was Hall of Famer and Basketball Coaching Pioneer Ward "Piggy" Lambert. Coach Lambert wrote Practical Basketball in 1932, one of the first "bibles" of the game (a 243 page textbook). In his book, Coach Lambert discussed two important aspects of being an effective coach: Making sure players take individual initiative and still have great teamwork.
Whether ii is a basketball team or a work team, an effective coach or manager will ensure that individuals are taking initiative. Coach Lambert put it this way:
"The coach must be a teacher of good habits. Because of the rapid changing of offensive and defensive situations, players do not have much time to think. They must make quick decisions. The coach must see that initiative is developed in the players. He must see that good habits are so well established that players perform them in times of stress."
In his book with Don Yeager A Game Plan for Life: The Power of Mentoring, Coach Wooden discussed how Coach Lambert stressed initiative:
"I laugh, now, that we had no idea just how far ahead of his time Coach Lambert really was. When Nike launched their "Just Do It" slogan in 1988, I thought, "That's what Coach Lambert was saying all along!" "The doer makes mistakes," he would say. "Mistakes come from doing, but so does success." He stressed the importance of acting rather than overanalyzing. That's why fundamentals were so key for him. If your body was already conditioned to have everything else positioned as it should be, you could trust your instincts in a high-pressure game situation.
I think there is a lesson there for everyone, on or off the court: If something needs to be done, do it. If there is something you think might be beneficial for those around you, be the one to act; don't wait for someone else to do it. Take action and take initiative. It can be passing the ball, or it can be striking up a conversation with a lonely neighbor - whatever the situation, we all should have the fundamentals in line so we can seize the moment and act. And never let your fear of failure prevent you from going forward.
One of my favorite lessons from Coach Lambert is that the team that makes more mistakes is probably the team that wins the game. There are risks and there will be mistakes, but if you've conditioned for them, the victories will outweigh the losses. I firmly believe that this is true for just about any situation in athletics or in life; if your principles are solid, you can approach any opportunity with confidence."
Coach Lambert blended initiative and teamwork by insisting individual action was taken to benefit the team, not for a selfish purpose. Coach Wooden described Coach Lambert this way:
"Team spirit was his other big focus. If you didn't play in a way that lifted the team, you would be sitting on the bench, no matter who you were."
Are you able to blend Initiative and teamwork with your team?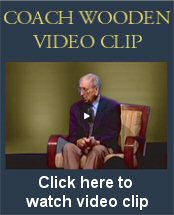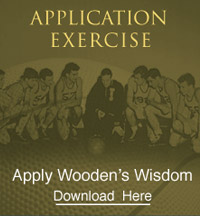 COACH'S FAVORITE POETRY AND PROSE
A Gift To Share
I was given a smile the other day
From someone who passed me on their way.
I wasn't sure what I should do.
Perhaps, I'll leave it up to you.

If I should keep it for myself,
Put it on the kitchen shelf.
Then it would be a certainty
To bring some happiness to me.

Somehow that doesn't feel just right
For me to keep it in my sight
When there were others who might need
A waft of warmth, oh yes indeed.

It doesn't take so very much,
A cheerful smile, a gentle touch,
To lift the cloud another bears,
To help them feel somebody cares.

There is one thing we all should know.
A smile is like the candle's glow.
No matter how many candles share
That light, its fullness still is there.

So when I go out on the street,
No matter whom I chance to meet,
If I share with them my precious smile,
Do you think that will be worthwhile?

For hopefully, they too, will understand
That a smile is like a helping hand.
I'm hoping that you will agree
And someday share a smile with me.

Alora M. Knight