BUILDING A FOUNDATION (GENO AURIEMMA PART ONE)
Geno Auriemma is the Women's Head Basketball Coach at the University of Connecticut. His teams have won eleven national championship; the most in the history of college basketball.
Before Auriemma arrived at UConn, the women's basketball program had only one winning season in its history. Amazingly, since his arrival in 1985, the Huskies have had only one losing season—his first year with the team.
When he started at UConn his team had to share locker room space with the men's soccer team. Auriemma and his still current assistant coach Chris Dailey were crammed into a tiny office, where they used a rotary phone and shared a line with the track coach. If he was on a call, the basketball coaches would have to wait until he was done before dialing. The ceilings in the practice facility leaked so badly that rain made practice impossible. He didn't let any of these things become an excuse.
Since his arrival in 1985, the UConn women's basketball team has won 43 regular season and tournament titles, advanced to 17 Final Fours, posted six perfect seasons and won 11 national championships. In addition to 11 NCAA titles his program has mounted winning streaks of 111 and 90 games, twice surpassing Coach Wooden's 88-game run.
Auriemma's career is an inspirational story based on three of his great qualities: Hard Work, Honesty and an Open Mind. His family immigrated from Italy to the United States in 1961. As a new second grader at St. Francis of Assisi School, seven year old Geno spoke no English. With the help and support of his aunt, mother and the nuns at the school, Geno was up to the challenge and ultimately learned English, graduated and went on to Bishop Kenrick High School.
In his book Geno: In Pursuit of Perfection, Auriemma described the role women have played in his life:
"Since I can remember, I have never ever had any doubt that the role of women in the life of everybody that I knew was overpowering," he says. "You understood they were people that you listened to, that they would be stern, they would discipline you, but they would love you. They would tell you, 'This is what you need to do to be better.' They would criticize you when you were wrong. They would praise you when you were good. They would reward you, they would scold you, they made you work for everything. So this idea of women being the weaker sex, that's just so foreign to me. Whenever I hear that I'm like, 'What world did those people grow up in?'"
For Geno Auriemma his mother, Marsiella (who spoke no English), his aunt, who was his interpreter, his second grade teacher Sister Joseph Theresa and later on his favorite high school teacher Sister Rose Patrice, who helped him pass tenth grade geometry and stay eligible for basketball just as he was falling in love with the sport, set the foundation for how he would coach and handle adversity.
Who are you building a foundation for? What are you teaching them?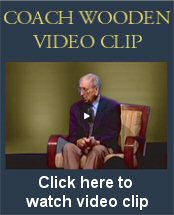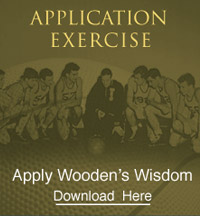 COACH'S FAVORITE POETRY AND PROSE
Improvement (Part Two)
The miseries of earth are here and with them all must cope.
Who seeks for joy, through hedges thick of care and pain must grope.
Through disappointment man must go to value pleasure's thrill;
To really know the joy of health a man must first be ill.
The wrongs are here for man to right, and happiness is had
By striving to supplant with good the evil and the bad.

The joy of life is living it and doing things of worth,
In making bright and fruitful all the barren spots of earth.
In facing odds and mastering them and rising from defeat,
And making true what once was false, and what was bitter, sweet.
For only he knows perfect joy whose little bit of soil
Is richer ground than what it was when he began to toil.

Edgar Allen Guest (1881-1959)