KEEP SHOWING UP (GENO AURIEMMA - PART TWO)
Geno Auriemma is the Head Women's Basketball Coach at the University of Connecticut. His teams have won eleven national championship; the most in the history of college basketball.
Auriemma's career is inspiring because his path to becoming one of the most knowledgeable and successful coaches in history is a result of his initiative. Nothing was given to him.
Auriemma was a backup point guard at Bishop Kenrick High School in Norristown, PA. where he played two seasons for the legendary high school coach Buddy Gardler. Geno had been cut from the freshman team, but a friend convinced Geno he should "Keep Showing Up". He tried out the next year and made the team.
It was Buddy Gardler who first inspired Auriemma to become a coach and Gardler whom Geno modeled his coaching style after-old school, tough and gritty. The rules were clear, and you were expected to follow them.
After graduating high school in 1972, Auriemma attended Montgomery County Junior College. He later transferred to West Chester State University, where his coaching career began. Jim Foster asked him to be his assistant coach for the girls' basketball team at Bishop McDevitt High School in Harrisburg. The pay for the entire season was around $600. For two years, Auriemma attended classes at West Chester and drove an hour to and from Bishop McDevitt High School. To make ends meet, he stocked shelves at a grocery store from 11 p.m. to 7 a.m. Geno "Kept Showing Up".
In 1978, Foster was hired to coach the women's team at Saint Joseph's University, and he asked Auriemma to come with him. During the summers, Geno began working Cathy Rush's basketball camp. Rush had won three national championships as the Head Women's Coach at Immaculata University.
He also took the initiative to bond with two future NBA coaches, Jack McKinney and Jim Lynam, who worked at Saint Joseph's. He also learned from Paul Westhead, the future Lakers and Loyola Marymount coach, who was at La Salle. He learned from Chuck Daly, the Head Coach at Penn. Auriemma worked with these coaches during the day and picked their brains at night.
Auriemma also bonded with Phil Martelli. When Martelli became the Head BoyCoach at Auriemma's old high school, Bishop Kenrick, he hired Geno as his assistant. In 1981, Martelli recommended Auriemma to Debbie Ryan, the Head Women's Coach at the University of Virginia, to be her assistant. Although he was working in Virginia, he continued to travel to Philadelphia and the Poconos to work summer camps with his Philadelphia mentors, gaining more and more knowledge. Auriemma just "Kept Showing Up".
After four years at Virginia, he became the Head Women's Coach at Connecticut. He was ready, because he had "Kept Showing Up".
If you have a goal, it may be attainable, but it will require you to "Keep Showing Up". Will you?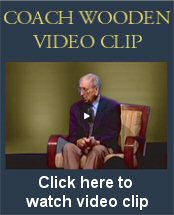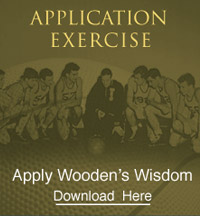 COACH'S FAVORITE POETRY AND PROSE
Equipment (Part One)
Figure it out for yourself, my lad,
You've all that the greatest of men have had,
Two arms, two hands, two legs, two eyes,
And a brain to use if you would be wise.
With this equipment they all began,
So start for the top and say "I can."

Look them over, the wise and great,
They take their food from a common plate
And similar knives and forks they use,
With similar laces they tie their shoes,
The world considers them brave and smart.
But you've all they had when they made their start.

You can triumph and come to skill,
You can be great if only you will,
You're well equipped for what fight you choose,
You have legs and arms and a brain to use,
And the man who has risen, great deeds to do
Began his life with no more than you.

Edgar Allen Guest (1881-1959)