TELL THE TRUTH (GENO AURIEMMA PART FOUR)
Geno Auriemma is the Head Women's Basketball Coach at the University of Connecticut. His teams have won eleven national championship; the most in the history of college basketball. Coach Auriemma is direct and honest in his communication with his players. In his book Geno: In Pursuit of Perfection, Auriemma described his approach:
"I say things to kids they really don't want to hear. In the end, if they look at it, the only reason I'm saying it is because I can see past what they can see. That's what experience is. I tell them, "If you trust me, I can get you where you want to be." It's a tough way to go about it, but it's a lot better than telling them what they want to hear—even if it's not true.
Here's what makes it work. On the other side, my players know they can come in here and say, "Coach, you were wrong the other night." And I have to be big enough to tell them, "You're right."
Everyone has their own way of motivating their players. I don't want my players to hate me. I want them to hate what I'm asking them to do. If they enjoy everything I'm asking them to do, then it's probably too easy."
In Geno, Diana Taurasi, who would lead Connecticut to three consecutive NCAA Championships and become the all-time leading scorer in the history of Women's Professional Basketball, described her first end of season meeting with Auriemma:
"In my freshman year, we lost in the NCAA semifinal game against Notre Dame. I played horribly. I shot 1 for 15 from the floor. We had our individual end-of-the-year meetings. I figured Coach was going to say to me, "Hey, you did a really good job this year." Instead, he sat me down and said, "We can't win with you next year. You took no responsibility for that championship game."
At the time, I was really angry with him. But you know what? He was right. If he had said to me, "Diana, I know you did your best in that game, its okay," I don't know if I would have been as determined or as hungry the next season. I came out in my sophomore season and had, I think, the best year of my career. We won the national championship.
Coach Auriemma isn't for everyone. If you can't take criticism or motivate yourself, go somewhere else. But if you love basketball, there is no other place for you. Especially if you are competitive and you want to be really good. Coach pushed the pedal for four years. And when I look back on it, I'm not just talking about basketball. He made me become a better person. He forced me to become somebody special, and I'll always be grateful. People always wonder why all the UConn players always come back. It's because we have something—somebody—worth coming back for. Thanks, Coach."
Coach Auriemma's players know they can rely on him for the truth. Can people rely on you for the truth?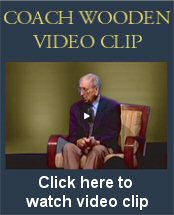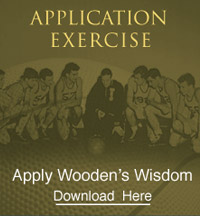 COACH'S FAVORITE POETRY AND PROSE
THE BOY'S IDEAL
I must be fit for a child to play with,
Fit for a youngster to walk away with;
Fit for his trust and fit to be
Ready to take him upon my knee;
Whether I win or I lose my fight,
I must be fit for my boy at night.
I must be fit for a child to come to,
Speech there is that I must be dumb to;
I must be fit for his eyes to see,
He must find nothing of shame in me;
Whatever I make of myself, I must
Square to my boy's unfaltering trust. I must be fit for a child to follow,
Scorning the places where loose men wallow;
Knowing how much he shall learn from me,
I must be fair as I'd have him be;
I must come home to him, day by day,
Clean as the morning I went away.
I must be fit for a child's glad greeting,
His are eyes that there is no cheating; He must behold me in every test,
Not at my worst, but my very best;
He must be proud when my life is done
To have men know that he is my son.

Edgar Allen Guest (1881-1959)