PROPER FOCUS (GENO AURIEMMA PART FIVE)
Geno Auriemma is the Head Women's Basketball Coach at the University of Connecticut. His teams have won eleven national championship; the most in the history of college basketball. Auriemma's teams have a record of 188-3 in the last five seasons.
Coach Auriemma has the ability to get his players to have proper focus: they focus on what they are doing right now in practice as opposed to worrying about what the ultimate outcome will be.
His interaction with future Hall of Famer and All American Rebecca Lobo, who led Connecticut to its first national championship in 1995, is a good example of the proper focus approach.
UConn followed up its surprise run to the Final Four in 1991 by landing Lobo, the top high school player in the country. UConn had modest success in Lobo's first 2 seasons, losing early in the NCAA Tournament in both seasons and finished 2nd and 3rd in the Big East Conference. It was a disappointing start. In his book Geno: In Pursuit of Perfection, Auriemma described working with Lobo to achieve the proper focus:
"Just before her junior season begins, I sit her down and I tell her, Whatever you are doing needs to change. You are obsessed with winning a national championship and becoming an All-America, and you know why? Because you are afraid you won't. And because you are afraid you won't, it's paralyzing you when it comes time to make plays. So here's what we are going to do. It's a process that is going to involve the next two years. Understand that whatever happens, you are in the process of becoming all the things you want. Let's stop focusing on the end result and start focusing on what happens every day in practice. Live for the moment and stop worrying about what will happen in the future".
"The next season, in 1993-94, we go 30-3. She's a first team All-America. The year after that, we go 35-0, and in the second half of the national championship game she makes every single big shot she needs to make, and she becomes Rebecca Lobo, the symbol for everything that is right and good about women's basketball. Lobo was inducted into the Women's Basketball Hall of Fame as part of the class of 2010."
Auriemma removed the stress for Lobo - the kind that comes from a fear of losing, meeting the expectations of others or an overeager appetite to win, by focusing on improvement each day in practice; one day at a time.
Long term goals are great but obsessing or worrying about whether or not they will be achieved creates stress which is a distraction from the daily improvement needed to reach your potential.
Does your team have the proper focus? Do you?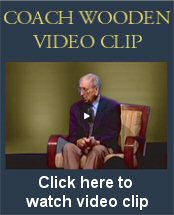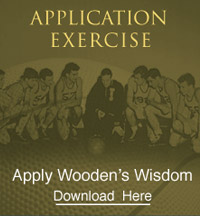 COACH'S FAVORITE POETRY AND PROSE
TWO VIEWPOINTS
Out in the open, the wide sky above,
And the green meadows stretched at my feet;
Out in the open, midst scenes that I love,
Where the rest hour is soothing and sweet;
Out in the country, where nature's at play
And the wild Sowers look up with a smile,
I am hurrying now for a short holiday,
I am going to rest there a while.

Into the city, where life isn't dead,
An' there's something a feller can do;
Where hundreds of people keep forging ahead
An' runnin' right plump into you;
Where there's hustle an' bustle, an' something to'see,
An' you never get lonesome nor blue;
I tell you, the city's the fine place to be,
An' I 'm goin' when ploughin' is through.

Edgar Allen Guest (1881-1959)