A RIVER WITHOUT BANKS IS A LARGE PUDDLE. (DON SHULA: WINNINGEST COACH IN NFL HISTORY)
Don Shula is best known as the head coach of the Miami Dolphins, the team he led to two Super Bowl victories, and to the only perfect season in the history of the National Football League. He led his teams to six Super Bowls. He had only two losing seasons in his 33-year career as a head coach in the NFL (1963-1995) He currently holds the NFL record for most career wins as a head coach with 347. Shula was inducted into the Pro Football Hall of Fame in 1997.
For Shula, the C in Coach stands for: "Conviction-Driven (Never compromise your beliefs)". The Ken Blanchard quote: "A river without banks is a large puddle" typified Shula's approach to coaching. His unwavering belief system provided the banks to his players (the puddle) to be transformed into a powerful unified force (the river). In his excellent book with Ken Blanchard: The Little Book of Coaching, Shula expands on this idea:
"Like river banks, a good coach provides the direction and concentration for performers' energies, helping channel all their efforts toward a single desired outcome. Without that critical influence, the best achievements of the most talented performers can lack the momentum and drive that push them into becoming champions.
A broad target that's easy to achieve leads to the "puddle" of mediocrity. Keeping that specific focus before the team and concentrating their efforts within narrowly defined limits are the tasks of any coach.
I wanted to make sure that my team came out of every meeting a little more intelligent than when they went in, that they came off the practice field a little better prepared mentally and physically to play the game than they were before practice. I wanted my players to make the most of every meeting, every practice, and every preseason game in order to get them ready for the regular season. Everything I did was to prepare people to perform to the best of their ability. And you do that one day at a time.
You can't be a successful leader if you don't have a clear idea of what you believe, where you're headed and what you're willing to go to the mat for. What do you stand for? If we asked your colleagues, team members, or clients what your principles are, would they be able to tell us? What is the main message you broadcast to people based on your daily actions and words? Remember, if you don't stand for something, you'll fall for anything."
Is your team clear on the beliefs you won't compromise? Are you? Do you change with the wind of other's opinions? Are you managing a puddle or building a river?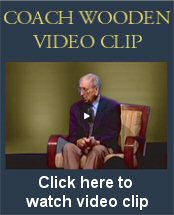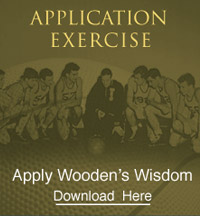 COACH'S FAVORITE POETRY AND PROSE
The Limitations of Greatness
No one really knows enough
To be hateful to their brother,
None is rich enough to cuff
And be cruel to another;
None so clever that he can
Justly wrong his fellow man.

No one is so strong that he
Has the right to curb the weak,
None so great that properly
He can trample down the meek;
There is nothing in success
That excuses selfishness.

Climb unto the topmost bights,
Win yourself an honored name,
But respect another's rights,
Raise the weak and help the lame;
Strength of muscle or of mind
Gives no right to be unkind.

Edgar Allen Guest (1881-1959)