DIRECT AND HONEST (DON SHULA - PART FIVE)
Don Shula led the Miami Dolphins to two Super Bowl victories and the only perfect season in the history of the National Football League. He led his teams to six Super Bowls. He had only two losing seasons in his 33 year career as a head coach in the NFL (1963-1995) Shula holds the NFL record for most career wins as a head coach with 347.
Shula's players accepted his leadership because he was always honest and ethical in his actions and words. To Shula, how you won was important. In his book with Ken Blanchard: The Little Book of Coaching, Shula discusses the critical importance of being direct and honest:
"The relationship I wanted to establish with my football team is one of mutual respect. The only way you can get respect is to earn it. Not by talking—but by having people see you doing things, time after time, that make sense to them. Your people have to recognize that your actions are motivated not by your ego but by your desire to have them be their best. As long as you have credibility, you have good leadership, and that's something people can hang their hat on—something they can immediately believe and accept.
If your highest authority is your boss or your organization, your last victory, or, worse, yourself, you won't be a very effective coach. With a big-picture perspective, adversity, circumstance, or even your own ego will not consume you. As a result, you don't have to panic, give up, start to cheat, lose control, or begin to take uncalled-for risks to get the results you want right now.
Genuine faith is eminently practical, and that vast resource for inner knowing stands ready to assist today's leader who will exercise it. Faith in something bigger than you isn't a passive emotion; it's an active belief that requires you to step onto the field and walk your talk. Doing something unethical or dishonest would erode my self-esteem—my image of who I am as a person. If I did something that was not right, I would have trouble facing my family.
I strive to make sure that what I say and what I do are the same. Dealing with others in a leadership capacity will test your character, especially if your role is a highly visible one. You should expect the pressures and be ready for them by becoming as clear as you can about what you believe, what's good enough for you, and how you need to treat people in order to get the job done."
In his book Practical Modern Basketball, Coach Wooden was direct in describing the critical importance of honesty:
"A coach must be sincere and honest in every phase of his/her work. He/she might lack something in knowledge and technique and still get along, but his/her fate is failure if he/she is lacking in honesty and sincerity."
People want the truth. Do you give it to them?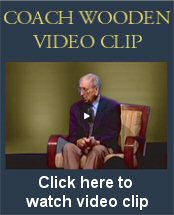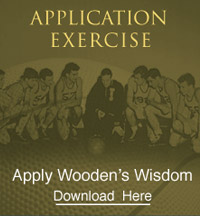 COACH'S FAVORITE POETRY AND PROSE
Wisdom's Haunts
Way out in the woods there are brothers who read
By the light of a candle, in Greek,
And in faraway places are thousands, indeed,
Who several languages speak.
I have sat near a stove in a strange little store
Where the farmers were gathered, and heard
A learned discussion of classical lore
That my soul with amazement has stirred.

I have looked at rough hands and at storm-weathered cheeks
And imagined their master to be
Uncultured, untutored, as wild as the creeks
That are rushing their way to the sea;
But I've found just behind the stern mask that he wears,
In the simplest of style and of dress,
A knowledge of life and a grasp of affairs
That professors don't always possess.

I blush for the arrogant city man's ways
Who struts in his pomp and his pride,
And thinks that all wisdom in city walls stays,
And fools in the country abide.
For out in life's forests and out on its plains,
By the side of her mountains and brooks,
In the roughest of garments are scholars with brains
Who know the inside of their books.

Oh, fool from the city, who views with a sneer
What is not of the city itself!
For what are the things that you seem to revere
But the glint and the glitter of pelf?
You are warped with conceit and are prejudice-blind,
And you know not the truth of the earth,
That wherever men labor there always you'll find
The things that are really of worth.

Edgar Allen Guest (1881-1959)