EXPECT EVERYONE TO LEAD (JACK CLARK- 28 NATIONAL CHAMPIONSHIPS CAL RUGBY)
Jack Clark has been the University of California's varsity rugby head coach since 1984. His teams have won 28 National Championships, compiling an overall record of 758–96–5. Clark's program has had domestic win streaks of 115, 98, 70 and 63 games and produced 135 All-Americans.
In an interview with Jan Stenker for Unconditionally Strong Clark discussed his definition and system of leadership which includes everybody:
"We say that the definition of leadership is the ability to make those around you better and more productive. It's a skill to us. Leadership isn't a rank — it's not only for the coach, it's not only for the captain, it's not only for the seniors. It's a skill. We open up the leadership model; it's not just the conventional model of the minority leading the majority. I just don't happen to think that's all that powerful. If I'm the leader, that means everyone else is a follower. I'm not happy with that.
If it's just a handful of good players or captains or seniors that are the leaders, you have the same problem. I think where people get that mixed up is they confuse rank — how you make decisions, who's the boss — with the leadership model. On this team, the leadership model is open to everybody. For instance, even if you're a freshman, you have the ability to make those around you better and more productive: Don't be a distraction, be on time, know your stuff, play hard and well when you're called on. Even if you're not the star player, you're contributing to that leadership model.
Over time, you look at leadership as a skill and not as a rank. When we really get it right, we have a lot of people on this team contributing to the leadership of the team. That gets pretty powerful. That's magical, almost, to see a bunch of people trying to make each other better and more productive. I think in a culture that values leadership as a skill, a person can ask himself at any point in time, "Am I demonstrating leadership characteristics now or am I lost in my own little world?"
Coach Clark's system is clear: he defines leadership as making others better and more productive and he expects everybody to participate in this process: helping others improve, not just doing your own job in a vacuum. As Coach Wooden liked to say: "It's amazing how much can be accomplished if no one is concerned with who gets the credit."
Authority, chain of command and rank are needed on any team but they don't define the limits of who can contribute to leadership (helping others be better and more productive).
Does everybody on your team participate in leadership or are you alone?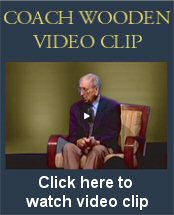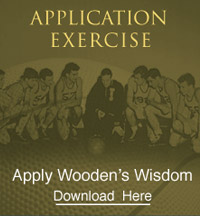 COACH'S FAVORITE POETRY AND PROSE
A Good World
It's a good old world we're livin' in
With all its pain an' sorrow;
A world where friends are givin' in
To cheer us till tomorrow.
A world where folks come forward, when
They see our feet are slippin'
To help us till we come again
To where the honey's drippin'.

I reckon that we'd never know
How kind an' good our friends are
If trouble's face should never show
Off yonder where the bends are.
If sudden-like there never came
A rain to drench a feller
We'd miss the friend who made us claim
A share of his umbreller.

If never came to us a woe
That seemed we couldn't bear it,
We'd never positively know
Which friend would rush to share it.
We'd miss a heap of sweetness, too,
That we could never borrow,
A sweetness no one ever knew,
Save it was born of sorrow.

This thought old care has driven in,
An' grief an' trouble taught me,
It's a good old world we're livin' in
Despite the woes it's brought me.
For had I never shed a tear,
Nor known what sorrow's rends are,
I never would have learned down here
How kind an' good my friends are.

Edgar Allen Guest (1881-1959)