"TEAM FIRST, SELF LAST" (JACK CLARK - PART FIVE)
Jack Clark has led the University of California's Rugby teams to 28 National Championships in 33 years with a simple mantra: "Team First, Self Last". In an interview with Jan Stenker for Unconditionally Strong Clark discussed his approach:
"We say team first, self last and we mean it. Sometimes one of the students will ask for a meeting because they want to talk about playing time or something. They'll sit down and they'll start asking the question and they'll be fumbling around with it. Finally they'll just say, "You're going to ask me what's best for the team, aren't you?" And I say, "Of course." That's the first lens that comes down on every decision we make. On a day-to-day operational basis, what are we doing, why we are doing it and who's doing it gets filtered through what's best for the team. The team likes that. There's merit in that. We process any piece of business that comes before the team right through that system."
Coach Clark asks his players to think about and use their experience to become experts in team. Clark and his players recognize that being a good teammate and being a good player are separate skill sets. Coach Wooden also felt both were essential and thus required.
"We celebrate team, talk about it and build on it. Growing up our players have all been on teams for 10 years. They've had good teams and bad teams and good teammates and bad teammates and everything in between. I want them to use all of that experience to recognize the differences, I want them to feel like they're an expert in Team. A value like selflessness, this idea that in making decisions, team comes first, self comes second — you get this done and it solves 10 problems. If your choice is that you just wait for individual drama, 65 guys all have something wrong." Try to process all that on a daily basis and you spend more time keeping everyone's nose pointed in the same direction than you do actually trying to improve as a team."
Clark feels that as a Coach he has the unique opportunity to make his players experts in Team; a skill that will help them well beyond graduation. He put it this way:
"How will world poverty be solved? How will education be solved? How will a devastating disease be solved? Is it going to be some brilliant dude or gal that says "I've got an idea here"? No, it's going to be groups of people pulling together in a team. I happen to believe that if you matriculate this program with a PhD in team that you're going to be really well prepared to go participate on one of these meaningful teams somewhere — maybe in your own family. Maybe it's in a business. I think it's a wonderful skill to have."
How do you teach your team members to be experts in Team?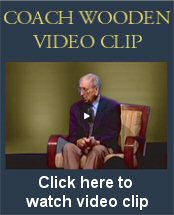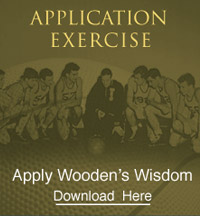 COACH'S FAVORITE POETRY AND PROSE
FAME
Fame is a fickle jade at best,
And he who seeks to win her smile
Must trudge, disdaining play or rest,
O'er many a long and weary mile.

Nor must he work alone for her,
Nor labor only for her cheers,
For doing this, it may occur
That he shall only reap her sneers.

But when he's ceased to care for self,
And is content to work and wait
For something better far than pelf,
Fame welcomes him among the great.

Edgar Allen Guest (1881-1959)