"IMPROVE ACCOUNTABILITY WITH COLLABORATION" (JACK CLARK - PART SIX)
Jack Clark who has led the University of California's Rugby teams to 28 National Championships in 33 years demands accountability from his players and is able to get his players to hold each other accountable by using a collaborative approach to decide what the team does well and what they need to improve on. On Sunday morning after a Saturday game, Coach Clark has a team meeting. In an interview with Jan Stenker for Unconditionally Strong, he described how the Team Meeting is conducted:
"We open every meeting with what we did well. We never cut that list short — we always build upon it. It's got to be real, though. It can't be stuff that is kind of halfway true. It's got to be real stuff. That collaboration is not just between players and staff — it's sometimes between player and player, where somebody's going to say, "I thought we tackled really well." And somebody else is going to say, "I don't know. I think our defensive structure was good but we fell off a lot of tackles." "I agree with you." "Hold on, we did well around the fringe but not on the corner of the defense." It's that level of detail. I'm going to facilitate that and I'm going to let it come out, so it's collaborative.
Then we're going to do the same thing about what we didn't do well, and what we have to build on. The coaches have stats and we're going to start presenting some information to them. But while it's fresh in their minds, we want to have the players make their lists first."
It is important to note that the Coaching Staff does not present the game statistics until after the players have collaborated to make their specific lists of what they did well and what they didn't do well. As Coach Wooden liked to say: "Listen if you want to be heard."
The Coaches and players then discuss detailed performance metrics and agree upon where they are progress-wise by pinpointing their performance level on a weekly graph. Clark described the discussions this way:
"Where are we, here? Are we here, are we here? Where are we?" There's a little bit of, "No, down. Okay. There. That's it." Then we can just play with that week to week. "Did we improve?" "Yeah, I think we got a little better." "Now, the opposition wasn't very good so let's not get carried away that we're all that. So maybe we're just here."
You can perform poorly against a weak opponent and win. You can make a poor sales presentation and get the sale from an eager buyer. Coach Clark does not let his teams get carried away with phony statistics.
The meeting is concluded with players and coaches all having collaborated and agreed on specifically what they need to improve and build on during the next week of practice. By starting the meeting with what the team is doing well Clark creates a positive learning environment where people are open and not defensive.This sets up the collaboration. Collaboration causes teams to be eager, not just willing to improve.
How do you conduct your team meetings?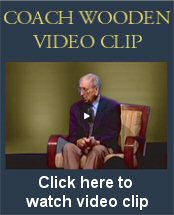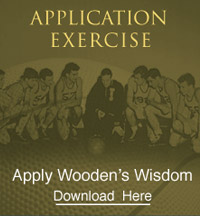 COACH'S FAVORITE POETRY AND PROSE
Tell Him Why
When your boy wants to do what he shouldn't—
Some foolish or dangerous thing.
Or something you wish that he wouldn't,
A deed that disaster may bring,
That he must not you hasten to tell him
And threaten him should he defy,
With a positive order you quell him,
But do you explain to him why?

When you want him to do what he should do,
When you're eager to have him polite,
When its something you know that he could do,
Do you train him with reason or fright?
You may say that he 'must' or severely
With him you will deal by and by;
You see why it's proper most clearly,
But do you explain to him why?

A boy's mind is open to reason,
A thinking device is his brain;
Injustice he's ready to seize on,
So why don't you stop to explain?
It's perfectly proper to check him
When you see that in danger he'd fly,
But it certainly sure that you'll wreck him
Unless you explain to him why.

Edgar Allen Guest (1881-1959)