"GAME PLAN" (JACK CLARK - PART SEVEN)
A good Game Plan is needed by anybody who wants to achieve a goal. The French writer, poet and aviator Antoine de Saint Exupéry (1900 – 1944) once said "A goal without a plan is just a wish." In a podcast for the Orrick Law firm, Jack Clark, who has led the University of California's Rugby teams to 28 National Championships in 33 years, offered great insight as to how he approaches his Game Plans:
"Whatever we're going to decide it will be something we can execute on by way of our strengths. I'm always going to look through the lens of what is it that we do well, even if I thought that the opposition had a real hole in their game, and it was there to be exploited. If I didn't think that we had the competences in that area, that wouldn't become a central point in my game plan. I think game plans have to be decided on what you do best and then I think that the next pillar of that is what you can take away from the opposition."
If Clark was a basketball coach he would not play a zone defense unless his team was very good at a zone defense, irrespective of the opponent's incompetence against a zone defense. In terms of a Game Plan for a career, don't pursue a sales job irrespective of the potential revenue if you don't truly enjoy dealing with the public. Don't pursue an administrative office job if you thrive being out talking to people. The best salespeople don't always make the best sales managers and the best sales managers don't make the best salespeople.
Don't embark on a Game Plan, whether it's a sports or a business team, unless you have the right people to execute it. In the long run, you have to decide to recruit people that fit your Game Plan or recruit the best people available and be willing to change your Game Plan to fit them.
Bill Marriot was once asked the secret to great customer service at the Marriot Hotels. He replied: We hire nice people. John Shields, the former CEO of Trader Joe's, once commented that when he interviewed somebody for retail, he wouldn't hire them if they didn't smile within 30 seconds. Coach Wooden commented "I consider quickness to be the most important physical asset for an athlete. Second to quickness, I wanted to know what kind of person he was: Was he a team player or could he be made into a team player?" These leaders' recruited people who could execute their Game Plan.
What Coach Clark did not do was take his team away from their strengths in an attempt to take advantage of an opponent's weakness. That would be like pursuing a career only for the money.
What's your Game Plan? Are you playing to your strengths?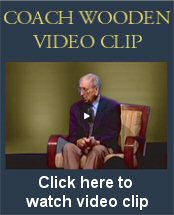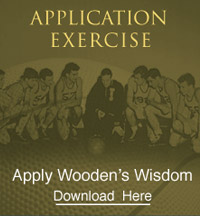 COACH'S FAVORITE POETRY AND PROSE
The Whiners
I don't mind the man with a red blooded kick
At a real or a fancied wrong;
I can stand for the chap with a grouch, if he's quick
To drop it when joy comes along;
I have praise for the fellow who says what he thinks,
Though his thoughts may not fit in with mine;
But spare me from having to mix with the ginks
Who go through this world with a whine.

I am willing to listen to sinner or saint
Who is willing to fight for his rights,
And there's something sometimes in an honest complaint
That the soul of me really delights.
For kickers are useful and grouches are wise,
For their purpose is frequently fine;
But spare me from having to mix with the folks
Who go through this world with a whine.

Edgar Allen Guest (1881-1959)