HOW TO SHOW YOU CARE (PETE NEWELL PART THREE)
Theodore Roosevelt said: "People won't care how much you know until they know how much you care." In his book A Good Man, The Pete Newell Story, Bruce Jenkins tells the inspiring story of Ricky Ayala who played for Coach Newell at Michigan State. It is a great example of how to show you care about somebody beyond what they can do for you:
"Reginald (Ricky) Ayala was the first African American to play basketball at Michigan State. He arrived as an underprivileged kid from the streets of Brooklyn.
At the beginning of spring practice for his sophomore season, the 5' 6'' Ayala had a meeting with Newell that changed his life. Nearly a half-century later, the details are vivid in his mind. "Pete told me to put the ball down and sit down for a minute. He looked at my transcript and noticed I hadn't decided on a major. 'Well, I've seen a lot of players with this dilemma,' he tells me. 'Let's try to figure out what you don't want to be. So we spent about 20 minutes ruling out all these things: doctor, lawyer, coaching, all over the map. He asked me what I was looking for in life. I told him a college degree, the chance to make some money, and a job with variety. I'd spent my whole life in Brooklyn. I wanted an interesting job that might let me travel some.
'All of a sudden it hits Pete. He says, 'Rick, I know what it is - hotel management. I can still see us sitting there on a bench, and I just started laughing. 'I'm not kidding,' Pete says. We've got one of the three best hotel-management programs in the country. From what I've heard, graduates of that school make more money per capita than any other program in the university. "Now I'm interested," Ayala went on. "I've never even been in a hotel, but I get an appointment with the dean. I still remember Dean Scott telling me, 'Don't ask me for any help or any favors. We don't have any athletes in this program! Ricky Ayala became the first black graduate of Michigan State's hotel management program. In 1959, he made what he describes as an easy transition into hospital administration, and in 1970, he was hired as CEO and chief organizer of a four-hospital merger in the Detroit area, a lucrative job he kept until his retirement in 1991."Pete Newell picked my major," says Ayala. 'That's the kind of man he was!
'But that's not all he did. Newell also insisted that Ayala enter the ROTC military program at Michigan State, "and that's the last thing I wanted to do," Ayala said. "I hated the military. That's like Boy Scouts for a kid from New York City. I went into ROTC and became an officer in the Air Force [1955 through '57]. The insights he had into a man's character were uncanny."
A great coach, teacher, manager or leader is aware of and concerned about the challenges and long term aspirations a team member has away from the workplace. The coach should not try to overcome these challenges for the team member but can provide a combination of empathy, guidance and encouragement. This shows you care.
Is there somebody you could show you care?
You will enjoy it. Coach Wooden often said: "Nothing can give you greater joy than doing something for another."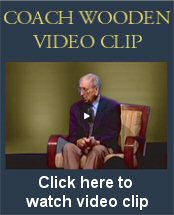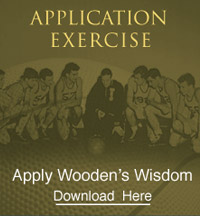 COACH'S FAVORITE POETRY AND PROSE
Keep Your Dreams
Keep your dreams-they're richer far
Than the facts discovered are.
Do not seek all things to touch;
Do not want to know too much.
Growing old, still play the child;
Keep some glory undefiled.
What if clouds are mist and air?
Still see ships sailing there.

What would life be if we knew
Only those things which are true?
If the things of bad and good
Were by all men understood.

Nature's hills and brooks and springs
Would be catalogued as things.
Keep your dreams, for in them lies
Joy denied to men grown wise.

Still build castles in the air!
Still see white ships sailing there!
Still have something to pursue,
Something which you wish you knew.

Edgar Allen Guest (1881-1959)