INNOVATE AND ADAPT (PETE NEWELL PART SIX)
Until 1937 there was a jump ball at center court after every made basket in a basketball game. For the jump ball, teams would put their shorter players in the frontcourt closer to their basket so they would be ready to score, and they put their taller players in the backcourt ready to defend. When the jump ball rule was abolished, the natural extension was that teams had their taller players dribble the ball up the court and had their small players set up down the court by the basket to score and battle for offensive rebounds. It was simply the way the game was played.
In 1947, future hall of legend Pete Newell was starting his second season as a head coach at USF. In his first season the team had gone 13-14 and his prospects for his second year weren't a lot better. In the book A Good Man The Pete Newell Story, by Bruce Jenkins Coach Newell explains how an innovative approach and adapting to the players he had changed everything:
"At that time big guys were the guards; consequently, you'd have big men bringing up the ball, and little guys were the inside players and offensive rebounders down court by the basket. Now I had 6-6 John Benington playing guard, and he couldn't dribble the ball twice without kicking it. He was smart and a good rebounder, and a pretty good shooter, but I can't play him; he can't bring the ball up court. I've also got little Rene Herrerias, who's about 5-9 and quick, but he weighs about 135 pounds and can't get an offensive rebound in a month. He's not going to get too many shots off, either. That's a big reason why little guys didn't play at that time, because offensively they were at such a disadvantage.
So, I'm thinking, how can I get the best out of these two guys? I decide I'm going to play my big guys on both boards. I didn't have sense enough to know you weren't supposed to do it that way. I was just trying to get the best out of my team. Rene was good on defense, smart as a whip, and he was a natural quarterback on the dribble. And we had a 5-10 guy, Ross Giudice, who was also very quick. So we instituted a press defense to give our big guys a chance to get back on defense. On the West Coast it was novel and we just started killing people. They've got big guys bringing the ball up court, and they can't get past these two little gnats I got up there. That became our label at USF, the press defense. That's when we turned the whole thing around. We also did a lot better job rebounding, because I had my big men on both boards. Pretty soon, some other teams started to invert. It was the only way they could match up with us. And before long, everybody was inverted":
A year later Newell's "new press and inversion" took Madison Square Garden by storm as little known USF won the NIT Championship. Coach Newell innovated a new system of basketball to adapt to the players he had. Now this is how basketball is played worldwide but at the time his methodology was simply not the way the game was played. That didn't matter to Pete Newell.
Is there something you're doing just because that's the way it's always been done?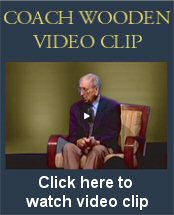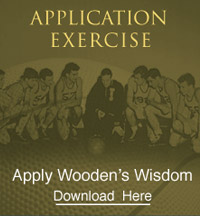 COACH'S FAVORITE POETRY AND PROSE
Real Help
If you can smooth his path a bit,
Bring laughter to his worried face,
Restore today his stock of grit
And help him all his troubles chase.
If you can speak one word of praise
That shall his drooping spirits raise
And warm his heart with cheer,
You have done more than they will do
Who'll sighing, rush someday to strew
Red roses on his bier.

If you stretch out a hand to him
Today when he is plodding on,
When everything seems dark and grim,
And hope is very nearly gone,
If you go to him where he stays
And speak the little word of praise
That now may banish fear,
You will have done more good than they
Who'll rush to praise his lifeless clay
And strew with flowers his bier.

If you will note the good you see
In him today, while yet he lives,
If you will be the friend you'll be
When death to him the summons gives,
While he is here to hear your praise,
To profit by your kindly ways,
You'll not seem insincere
If, when death's smile is on his face,
You rush to be the first to place
Red roses on his bier.

Edgar Allen Guest (1881-1959)