LESS IS MORE (PETE NEWELL PART SEVEN)
Always ahead of his time future hall of legend Pete Newell understood that Less is More. In the book A Good Man the Pete Newell Story by Bruce Jenkins Coach Newell explained how he kept his players refreshed and sharp:
1. "I didn't demand a lot of a player's time, the way coaches do today, where you watch films morning, noon and night. We didn't overdo any of that stuff. In fact, we practiced less than two hours a day and that was it."
2. When the semester break arrived Newell gave the team 10 days off, then followed one of his old customs by playing his reserves in the first game back. "During the break, I wouldn't even let the guys come on the court. I wanted them to change their habits, think about other things, and come back mentally refreshed. I sacrificed a little conditioning with all the time off, but mentally, I think the game was fun for them again and without question, mental conditioning is just as important. I did this every year at the break, and often we'd be rising at the end of the year when other teams had flattened out". In 1959 Newell's team won the National Championship. In 1960 they were the national runner up.
Prior to the 1961-62 season, Coach Wooden had been at UCLA for 13 years. His teams had been in the NCAA tournament three times and lost in the first round all three times. In 1962, two years before Coach Wooden won his first national championship, UCLA came up short, losing to Cincinnati in the Final Four. Coach felt it was his fault. In Coach Wooden's Complete Guide to Leadership, he described two of the changes he made:
In the past, when UCLA qualified for the NCAA post season tournament, I had intensified our already grueling practices, working players even harder-so hard in fact, that by tournament time they were physically and mentally spent.
I had added new plays and piled on more information. Instead of staying with what had worked during the regular season - a clear and uncomplicated strategy.
Coach stopped adding new plays and shortened late season practices to ninety minutes or less. Ten championships in twelve years followed.
Are you giving yourself enough time to disconnect and refresh? Less is more.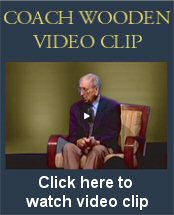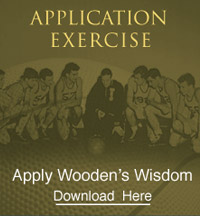 COACH'S FAVORITE POETRY AND PROSE
Real Lessons
These are the lessons I would learn,
Not how to climb above all men,
Not how the greatest sums to earn,
Not how to wield a master pen;
But I would learn how I can be
A little kinder than before,
How I can live more patiently
And help my friends a little more.

And I would learn to better show
My gratitude for favors had,
To see more of the good below
And less of what I think is bad.
To live not always in the day
To come, and count the joys to be,
But to remember, as I stray,
The past and what it brought to me.

To judge my life, not from today,
Nor what tomorrow it may mean,
But from each footstep of the way
And from each pleasure that has been,
Remembering in each present woe
The love and laughter I have known;
And to be grateful as I go,
For joys that once I called my own.

These are lessons I would learn:
To be as brave in grief and care
As I am when it is my turn
To tread the road where all is fair.
More grateful I would learn to be
For what has been, as on I tread,
And to press forward cheerfully.
Content to face what lies ahead.

Edgar Allen Guest (1881-1959)