SHARE IDEAS DON'T KEEP SECRETS (PETE NEWELL PART EIGHT)
Hall of Fame Legend Pete Newell's first game as a collegiate coach came against USC and future fellow Hall of Fame coach Sam Barry. They lost the game 57-41. In the book A Good Man the Pete Newell Story by Bruce Jenkins, Coach Newell described how the rival coach, Sam Barry, helped him after the game:
"This is the type of person Sam Barry was: He knows I'm really down, and we happen to walk out of the building around the same time. He had this terrific double-screen play that we just couldn't handle. He'd pop his best shooter behind the screen and got open shots all night. I was so curious how they ran the play. So, he starts taking me through the play right there in the parking lot. He's got his wife out there, and she's part of the double-screen with an old buddy of mine who was leaving with me. I'm the passer; Sam's coming off the screen. We're using his car as the fifth player. Here's this great coach showing me one of his best plays. I couldn't wait for the next practice day. And you know, I used that play the rest of my career"
After his last game as a Coach, Pete Newell described how he was able to "pay it forward" by helping his biggest rival, UCLA coach John Wooden:
"When I had announced my retirement in the middle of the 1959-60 season, Coach Wooden told me that he wanted to sit down and talk about defense in the summer. I told him I would be happy to. I ended up coaching the Olympic team in Rome, but my assistant, Rene Herrerias, who later took my place as head coach, discussed strategies with John's assistant, Jerry Norman, who was critical in helping UCLA implement their own full court press defense which helped UCLA win their first championship in 1964."
Two of the greatest professional players of that era, rivals Bill Russell of Boston and Oscar Robertson of Cincinnati, also shared ideas. The famous rivals were also best friends and ate lunch at each other's home on game days when playing in the other's city. This didn't make them any less competitive with each other that night.
The idea of sharing ideas with your "competitive rivals" has been continued by the best professional basketball players from today's NBA. Kevin Durant's off-season workouts included sessions with "rivals" Russell Westbrook, James Harden and Paul George. Another set of his workouts were with "rivals" LeBron James and Kawhi Leonard.
The media sometimes romanticizes "bitter rivals". Whether it is Pete Newell and John Wooden or Kevin Durant and LeBron James, the lesson is that "great champions don't keep secrets they share ideas and grow together."
Do you have a "rival" you could share ideas with and grow?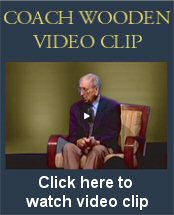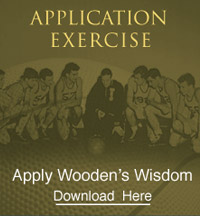 COACH'S FAVORITE POETRY AND PROSE
Learn to Smile
The good Lord understood us when He taught us how to smile;
He knew we couldn't stand it to be solemn all the while;
He knew He'd have to shape us so that when our hearts were gay,
We could let our neighbors know it in a quick and easy way.

So He touched the lips of Adam and He touched the lips of Eve,
And He said: 'Let these be solemn when your sorrows make you grieve,
But when all is well in Eden and your life seems worth the while,
Let your faces wear the glory and the sunshine of a smile.

'Teach the symbol to your children, pass it down through all the years.
Though they know their share of sadness and shall weep their share of tears,
Through the ages men and women shall prove their faith in Me
By the smile upon their faces when their hearts are trouble-free.'

The good Lord understood us when He sent us down to earth,
He knew our need for laughter and for happy signs of mirth;
He knew we couldn't stand it to be solemn all the while,
But must share our joy with others- so He taught us how to smile.

Edgar Allen Guest (1881-1959)