TO BE A SUCCESS: "INCLUDE OTHERS" (PETE NEWELL PART NINE)
John Wooden designed his Pyramid of Success as a checklist of the personality/character traits a person would need to reach their potential in any endeavor. The Pyramid has fifteen blocks. Five blocks on the bottom row make up the foundation; the starting point. In Coach Wooden's formula for success you must have these five foundational qualities in place before you can move forward.
The two cornerstones are individual qualities: Industriousness and Enthusiasm. The three qualities in the middle of the foundation are Friendship, Loyalty and Cooperation. Coach felt these were essential because they involved including others. The idea is simple: To be a Success: "Include Others". Coach believed before considering other necessary individual skills like Self-Control, Alertness, Initiative, Intentness, Condition and Skill; we must first "Include Others". A great individual player who can't work well with others is a talented derelict.
As technology improves and specialization increases, there is more screen time and less face to face time. The importance of "Including Others" can be overlooked. The story of Pete Newell's Cal Berkeley's National Championship team and the schools Straw Hat Band is a great example of the power of "Including Others".
The 1959 National Championship was held in Louisville, Kentucky. Newell's Cal Team was huge underdogs as they would play Cincinnati with Oscar Robertson in the semi finals and then West Virginia with Jerry West in the finals. To make matters worse, they were only given 250 tickets and didn't have enough fans to use those. But Pete Newell, who always "Included Others" had a secret weapon: Cal's ten-member Straw Hat Band. The band had followed the team on the road all year. Newell described it this way: "I don't know how they did it, but they always showed up at our road games. We'd go to a place like Moscow, Idaho, and you can hardly get there under any circumstances, and the band shows up. Maybe only 9 or 10 of them but they would be there."
With Friendship, Loyalty and Cooperation firmly in place, Newell invited the Straw Hat Band to attend the Final Four in Louisville. In his book A Good Man the Pete Newell Story, Bruce Jenkins described what followed:
"Strapped by a four-hour airport delay, the Straw Hatters found themselves in a desperate, 300-mile bus ride from Chicago to Louisville, complete with police escort. They arrived just nine minutes before Cal took the floor against Cincinnati and promptly launched into "My Old Kentucky Home" - sweet sounds for the Kentucky crowd - and singlehandedly turned the neutral audience into a home crowd for Cal. Newell wasn't done; he didn't just send the Straw Hatters east. He had them eat the pre-game meal with his team before the championship game against West Virginia." This was taking "Including Others" to a new level.
With the Straw Hat Band and their Kentucky Music in full control of the crowd, Cal was playing a virtual home game as they stunned college basketball beating West Virginia 71-70 to win the National Championship.
Is there somebody else you could include on your journey to success?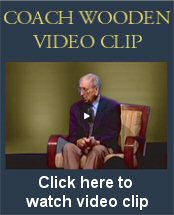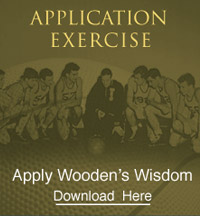 COACH'S FAVORITE POETRY AND PROSE
Give Me A Single Day
Give me a single day, I ask no more
From dawn to dusk, ah, that is time enough
To reach the goal that I am striving for;
There is no need of further putting off
The little deeds of kindness I may do,
The little words of kindness I may say;
I need no distant morrow to be true,
Give me a single day.

Give me a single day to live my life,
For that is time enough for smiles and tears;
I can as bravely bear my share of strife
As though I were to live a thousand years.
I can be brave and patient and resigned,
Helpful and cheerful as I go my way;
I need no distant morrow to be kind,
Give me a single day.

Give me a single day, 't is all I ask,
And let me fill each minute with my best;
I can complete my little daily task,
And find contentment in my hour of rest.
I may not journey many, many miles,
But I can view the roses where I stray,
I need no distant morrow for my smiles,
Give me a single day.

I do not ask to be allowed to live
Another year or twenty, so that I
When richer to the poor may proudly give,
Neglecting now the chance that is close by.
I would not spend today in seeking gold,
Saving tomorrow for the kindly deed;
To prove that I am cheerful, helpful, bold,
Only a day I need.

Let me but live a rounded life today,
My virtues all in action as I stroll;
For further time I would not ask or pray,
Upon the future I 'd not risk my soul,
For in the time I have much I can do,
Fearless, yet gentle in my simple way;
I need no distant morrow to be true,
Give me a single day.

Edgar Allen Guest (1881-1959)