RESPONSIBILITIES NOT PRIVILEGES BUILD TEAMS (DENNY CRUM)
Hall of Fame Basketball coach Denny Crum guided Louisville Basketball to six NCAA Final Four appearances (1972, 1975, 1980, 1982, 1983, 1986) and the 1980 and 1986 National Championships. Coach Crum was not given privileges on his journey to coaching fame.
Crum, a 1955 graduate of San Fernando High, played at Pierce Junior College (1955-57) before playing for John Wooden at UCLA (1957-59). He then worked as the Bruins' Graduate Assistant from 1959-61 and then spent six years as an Assistant coach and Head coach at Pierce Junior College before returning to UCLA as an Assistant Coach (1967-71), helping them win three National Championships. Upon becoming the Head Coach at Louisville in 1971, he built teams based on giving the players: "Responsibilities not Privileges".
The Introduction page of the notebook he gave his players stated:
"It is our responsibility to provide an opportunity for you to improve to your fullest potential. It is your responsibility to make the necessary sacrifices if you are to achieve what we feel you can"
You don't always have control over every situation. but you do have control of your own effort and your own mind. We can only achieve what you want to - so, let's be the best."
The second page of the players notebook had an extra-large bold-faced title set off from the body to the right at the very top: Responsibilities. The notebook then listed the specifics:
"Class Attendance: You are here to obtain an Education, therefore we place great emphasis on class attendance. You are required to attend all classes- we will not accept excuses for missed classes.
General Conduct: As a member of our basketball program you are a select person in the eyes of the community, faculty, and other students. It is your responsibility to conduct yourself in such a way that will keep the University of Louisville image what it has traditionally been. Be courteous and honest at all times. Dress neatly and keep yourself well groomed.
Equipment and Books: Turn in practice equipment after showering and pick up clean equipment for the next day. You are responsible for your equipment and books just as you are for your own personal items.
Additional Responsibilities: Pray and attend church regularly. You are here to get an education first and play basketball for the University of Louisville; but in each of your lives you should put your faith first.
Write to your parents at least once a week.
Sit up front in your classes.
Report all injuries and illnesses to one of the coaches and one of the trainers.
No Profanity is Allowed - Resorting to use of profanity is admission of restricted vocabulary and lack of self-control. Broaden your vocabulary and learn to control your thoughts and speech."
"If you treat players like adults, there's a better chance they'll act like adults," Crum says. "Part of an education is learning to make decisions and accepting the consequences."
A great team is built with people who want responsibilities, not people who need rules.
Who's on your team?
What are their responsibilities?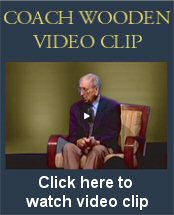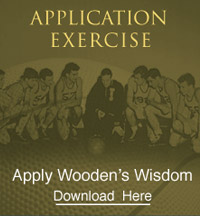 COACH'S FAVORITE POETRY AND PROSE
JOYS WITHIN REACH
You needn't be rich to be happy,
You needn't be famous to smile;
There are joys for the poorest of toilers
If only he'll think them worthwhile.
There are blue skies and sunshine a-plenty,
And blossoms for all to behold;
And always the bright days outnumber
The dark and the cheerless and cold.

Sweet sleep's not a gift of the wealthy,
And love's not alone for the great;
For men to grow old and successful
It isn't joy's custom to wait.
The poorest of toilers has blessings
His richer companions may crave;
And many a man who has riches
Goes sorrowing on to the grave.v
You'll never be happy tomorrow
If you are not happy today;
If you're missing the joys that are present
And sighing for joys far away.
The rose will not bloom any fairer
In the glorious years that may be;
Great riches won't sweeten its fragrance
Nor help you its beauties to see.

Today is the time to make merry,
'Tis folly for fortune to wait;
You'll not find the skies any bluer
If ever you come to be great.
You'll not find your joys any brighter,
No matter what fortune you win;
Make the most of life's sunshine this minute,
Tomorrow's too late to begin.

Edgar Allen Guest (1881-1959)