CONSISTENT GAME PLAN FOR ADVERSITY (JAY WRIGHT)
In 2016 and 2018 Coach Jay Wright guided Villanova Basketball to the National Championship. I think he will be a Hall of Fame Coach. He is already a Hall of Fame Human Being. In Coach Wright's fantastic book, "Attitude" it becomes clear that as a leader, Jay Wright executes a "Consistent Game Plan for Adversity". Whether it is a season ending injury, player illness or being upset in the NCAA Tournament, Coach Wright always responds (not reacts) the same way.
When a setback occurs, there is no drama or loss of self-control. Coach Wright stays calm. If there is a bright spot in the setback, he finds it and shares it with the team. In the face of adversity, he always manages to "count his blessings".
Then, whether it his him or Team Chaplin Father Rob Hagan, they talk to the team and put the setback in the proper perspective using a world view.
Next as a group they get to the specific controllable actions that caused the setback and get them fixed one at a time, one day at a time without wasting time by thinking or worrying about the "What Ifs" of the past or future. "Be here now" is a core value of Villanova Basketball.
In 2015 Villanova was the Number One Seed in the East for the NCAA Tournament but was upset by eight seed North Carolina State in the second round, ending their season. Here are some excerpts from his book Attitude that are examples of his Adversity Game Plan.
After the loss, the first thing Coach Wright did was "count his blessings" by sharing with his players his appreciation for their efforts:
"The message I delivered to them was all about how much we had accomplished: "We slipped up, but we didn't give up," I told them. I wanted them to appreciate that as much as I did."
The day after the game, Father Rob spoke to the team and "put the setback in the proper perspective":
"'Do not be a stiff-necked people. When you have a stiff neck, you are kind of stuck, fixated in one direction. When we allow ourselves to move that neck and look around a bit, we can see the larger picture. If all we did was come to Villanova to win a national championship, then I guess you would consider the 2014–2015 season a failure. However, if we remember that we came to this university to grow in mind and spirit, to build relationships and life-lasting friendships, we will see the larger picture. When we give more than we receive, we may not win every game, but we will see a sunrise after every sunset and always see light through the darkness."
The team then moved forward and improved "one day at a time." Father Rob says: "The word crisis in Greek means opportunity. So, during a crisis in life we can ask ourselves, 'Where is the opportunity to grow stronger?''" Where's the advantage in the disadvantage? In his book, Coach Wright described their approach:
"Our goal is to have the guys treat each day with as much importance as any other. We borrow from the great John Wooden, the coaching legend from UCLA, who once said, "Make each day your masterpiece." We supplement that unforgettable (and poetic) piece of advice with a maxim of our own, "Be here now." Stay in the moment, from the first summer workout through whenever the final horn ends our season. "Don't look at what's ahead in a week or a month," we tell our guys. "Stay away from getting caught up in the 'what may come' of the Big East or NCAA Tournaments."
The next season, Villanova won the National Championship.
What is your "Consistent Game Plan for Adversity"?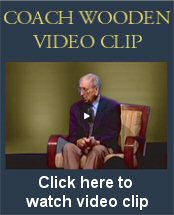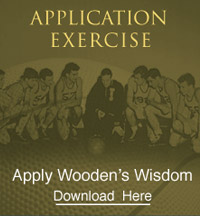 COACH'S FAVORITE POETRY AND PROSE
Compensation
I'd like to think when life is done
That I had filled a needed post.
That here and there I'd paid my fare
With more than idle talk and boast;
That I had taken gifts divine.
The breath of life and manhood fine,
And tried to use them now and then
In service for my fellow men.

I'd hate to think when life is through
That I had lived my round of years
A useless kind, that leaves behind
No record in this vale of tears;
That I had wasted all my days
By treading only selfish ways,
And that this world would be the same
If it had never known my name.

I'd like to think that here and there,
When I am gone, there shall remain
A happier spot that might have not
Existed had I toiled for gain;
That someone's cheery voice and smile
Shall prove that I had been worthwhile;
That I had paid with something fine
My debt to God for life divine.

Edgar Allen Guest (1881-1959)