THE RIGHT STATISTICS (JAY WRIGHT PART 5)
On March 24th, 2016, Jay Wright's Villanova faced the University of Miami in the first round of the sweet sixteen in Louisville, Kentucky on their way to the first of its two National Championships.
As is the normal procedure that afternoon at the pre-game meal, Team Chaplin Father Rob Hagan shared a Life Lesson with the team. Father Rob's messages are based in Christianity and the Bible, but all members of the team, irrespective of their religion, know how universal his reflections are.
It was Holy Thursday and Father Rob began by telling the team how Jesus at his last "Team Meal" on this same day had taken the opportunity to solidify what it means to truly live for others when He washed the feet of his Apostles in an act of humble service. Jesus said, 'Humility is not weakness. It is strength.'
In Coach Wright's book, "Attitude" he describes what Father Hagan said and did next:
"Brothers, maybe we could join in that spirit and simply pull off a sneaker and a sock and use these pitchers of water on the table to wash the foot of the person next to us. A coach, a teammate, a manager, a trainer, a spouse. Father Rob walked to the table, grabbed a full pitcher and walked in my direction. I pulled a shoe and sock off and rolled up the pant leg of my Nike sweat suit. Father Rob took the pitcher and began to pour. Father Rob had washed my foot. Ryan "Arch" Arcidiacono was seated next to me. I looked at him, and without a word, he took off a shoe and sock. I grabbed another pitcher to wash Arch's foot. And so, it went, from one player to the next, on to the coaching and administrative staff. The room was silent the entire time. As each player passed the pitcher to the next, it felt to me like we were growing incrementally stronger with each pouring.
Father Rob put the lesson in terms that everyone could relate to. "So much of our lives is measured in numbers," he continued. "Number of points, number of minutes, number of highlights on SportsCenter. Number of dollars. Jesus is challenging us to track some new numbers: The number of times I picked someone else up who was down. The number of times I sacrificed a piece of me for someone else. The number of times I asked for and offered forgiveness."
Father Rob had given the team the most important statistics to track.
What's on your stat sheet?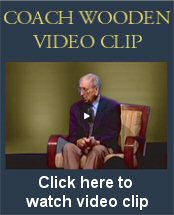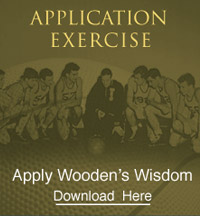 COACH'S FAVORITE POETRY AND PROSE
The Man to Be
Someday the world will need a man of courage in a time of doubt,
And somewhere, as a little boy, that future hero plays about.
Within some humble home, no doubt, that instrument of greater things
Now climbs upon his father's knee or to his mother's garments clings.
And when shall come that call for him to render service that is fine,
He that shall do God's mission here may be your little boy or mine.
Long years of preparation mark the pathway for the splendid souls,
And generations live and die and seem no nearer to their goals,
And yet the purpose of it all, the fleeting pleasure and the woe,
The laughter and the grief of life that all who come to earth must know
May be to pave the way for one—one man to serve the Will Divine
And it is possible that he may be your little boy or mine.
Someday the world will need a man! I stand beside his cot at night
And wonder if I'm teaching him, as best I can, to know the right.
I am the father of a boy—his life is mine to make or mar—
And he no better can become than what my daily teachings are;
There will be need for someone great—I dare not falter from the line—
The man that is to serve the world may be that little boy of mine.
Perhaps your boy and mine may not ascend the lofty heights of fame;
The orders for their births are hid. We know not why to earth they came.
Yet in some little bed to-night the great man of to-morrow sleeps
And only He who sent him here, the secret of his purpose keeps.
As fathers then our care is this—to keep in mind the Great Design.
The man the world shall need some day may be your little boy or mine.

Edgar Allen Guest (1881-1959)