CLEAR EXPECTATIONS (JAY WRIGHT PART 6)
Whether you are recruiting for a sports team or interviewing a potential employee; you do that person, your team and yourself a tremendous disservice if you fall into the trap of painting too rosy a picture in hopes of enticing that person to choose your team. Villanova's Jay Wright gives potential members of his team a clear picture of what will be expected of them. In his terrific book "Attitude" Coach Wright discusses his approach:
"In our recruiting, we don't spend a lot of time talking about basketball. Instead, we spend the vast majority of our time talking about all of the other things the Villanova experience has to offer. We make it very clear we want people who want to be more than just great basketball players.
Our philosophy: Be the best student you can be. Be the best man you can be. Be the best player you can be. We believe your commitment to excellence as a man and a student enhances your ability to reach your full potential on the basketball court.
One of the themes we reference often in our program is the story of "The Street Sweeper." It comes from a 1967 speech in Philadelphia by Dr. Martin Luther King Jr.:
"If it falls to your lot to be a street sweeper, sweep streets like Michelangelo painted pictures, sweep streets like Beethoven composed music, sweep streets like Leontyne Price sings before the Metropolitan Opera. Sweep streets like Shakespeare wrote poetry. Sweep streets so well that all the hosts of heaven and earth will have to pause and say, 'Here lived a great street sweeper who swept his job well.'"
Team Chaplin Father Rob Hagan reinforces the idea that "you must take the initiative to improve on your own and not wait on others to show you what to do" with this story:
"There is a poor woman who sits at the table every night, praying she wins the lottery," There are bills to pay and she arises each morning and prays, 'Dear God, I have to pay my children's tuition. Help me win the lottery.' She arises the next morning and prays, 'Dear God, I've got to make my car payment. Help me win the lottery.' "She arises the next morning and prays, 'Dear God, I've got to pay my mortgage. Help me win the lottery.' "The next morning she arises and prays, 'Dear God—' and before she can finish, God interrupts her and says, 'Work with me here: You have to buy a ticket!'"
It's good to ask God for help," Father Rob explains, "but we also ought to be willing to put forth the effort each day.
In the words of Saint Augustine: "Do not be content with what you are if you want to become what you are not yet. Where you have grown pleased with yourself, there you shall remain. Keep pushing forward.'"
Coach Wright can demand excellence from his players without creating resentment because he gives them clear expectations before they join the team.
What expectations do you communicate?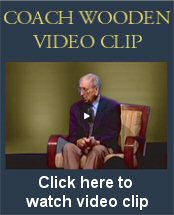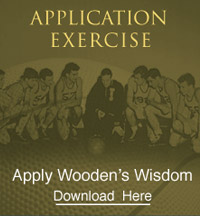 COACH'S FAVORITE POETRY AND PROSE
Unimportant Differences
If he is honest, kindly, true,
And glad to work from day to day;
If when his bit of toil is through
With children he will stoop to play;
If he does always what he can
To serve another's time of need,
Then I shall hail him as a man
And never ask him what's his creed.

If he respects a woman's name
And guards her from all thoughtless jeers;
If he is glad to play life's game
And not risk all to get the cheers;
If he disdains to win by bluff
And scorns to gain by shady tricks,
I hold that he is good enough
Regardless of his politics.

If he is glad his much to share
With them who little here possess,
If he will stand by what is fair
And not desert to claim success,
If he will leave a smile behind
As he proceeds from place to place,
He has the proper frame of mind,
And I won't stop to ask his race.

For when at last life's battle ends
And all the troops are called on high
We shall discover many friends
That thoughtlessly we journeyed by.
And we shall learn that God above
Has judged His creatures by their deeds,
That millions there have won His love
Who spoke in different tongues and creeds.

Edgar Allen Guest (1881-1959)