FAILURE ISN'T FOREVER (JAY WRIGHT PART 7)
In his book "Attitude" Coach Wright wrote about a key element needed for happiness:
"Failure Isn't Forever. Never fear failure. Think of it as an opportunity to learn. If you can approach every challenge without a fear of failure, knowing that you'll learn from any setback, you will find it easier to work with a free and uncluttered mind."
On March 20, 2016, on their way to the first of two National Championships, as Villanova prepared to face Iowa in the second game of the first round of the NCAA Tournament the pressure was on. The previous year they had been upset as a number one seed in the same situation. Coach Wright got rid of any fear of failure with great, direct, honest communication that put things in perspective. He described the moment this way:
"All year we had looked forward to this moment. Now it was here, and we felt unshackled. We weren't afraid of what came next. I rhetorically asked the guys: "What is the worst thing that could happen if we lost? Could we handle it if we did?" We already knew we could because we had done it." With free and uncluttered minds Villanova beat Iowa 87-68.
Here are four great thoughts from Coach Wooden that can help eliminate fear of failure:
"The people who don't make mistakes are the people that don't do anything."
"A mistake is valuable if you do four things with it: recognize it, admit it, learn from it, forget it."
"Don't permit fear of failure to prevent effort. We are all imperfect and will fail on occasions, but fear of failure is the greatest failure of all."
"The person who is afraid to risk failure seldom has to face success. The only real failure is the failure to act when action is required."
Instagram and Facebook have tremendous social benefits, but they have also created a whole new level of fear of failure for some folks. Some people fear they are a failure if they don't measure up to the idyllic images and profiles of friends and/or celebrities. Social media for them creates fear instead of fun. It is helpful to remember: The root of much unhappiness is comparison and don't forget to: Appreciate your own lawn.
Coach Wooden's basic approach of: "Never try to be better than someone else. But always be learning from others. Never cease trying to be the best you can be. One is under your control the other isn't." can help young people use social media as a resource for fun and learning, not failure and fear. The goal is to satisfy not everyone else's expectations, but your own.
What mental approach are you taking and teaching your team members to deal with fear of failure and social media?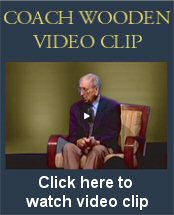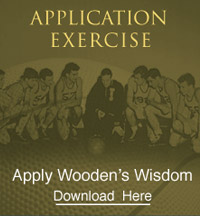 COACH'S FAVORITE POETRY AND PROSE
The Kindly Neighbor
I have a kindly neighbor, one who stands
Beside my gate and chats with me awhile,
Gives me the glory of his radiant smile
And comes at times to help with willing hands.
No station high or rank this man commands,
He, too, must trudge, as I, the long day's mile;
And yet, devoid of pomp or gaudy style,
He has a worth exceeding stocks or lands.
To him I go when sorrow's at my door,
On him I lean when burdens come my way,
Together oft we talk our trials o'er
And there is warmth in each good-night we say.
A kindly neighbor! Wars and strife shall end
When man has made the man next door his friend.

Edgar Allen Guest (1881-1959)