CULTURE IS WHAT YOU DO (JAY WRIGHT PART 8)
One of the topics often discussed in Sports and Business is how to build a great "Culture". The definition of a Culture may come from a slogan or set of values.
A very successful chain of retail grocery stores takes pride in their Culture that is stated as a: Positive work environment with a friendly staff that creates a WOW customer experience every day.
In one location, the staff is friendly with each other and friendly and helpful to customers. In another location, the staff is friendly with each other. They often have energetic happy conversations with each other but are not always friendly with customers and in fact sometimes get annoyed if you interrupt their task trying to access a product. It is a different kind of a WOW customer experience. These two stores have the same Culture Statement but very different Cultures.
The Culture Statement is only meaningful if it is made a reality with the consistent behavior of team members.
In his great book "Attitude" , Coach Wright wrote about a key element of the Villanova Culture:
"Find a role for everyone. A leader's job is to make sure everyone feels confident in their role and that the role is valued. The invisible contributions can matter the most. Try never to overlook the humble efforts made by members of your team. It is a leader's job to identify those instances that others might not see and emphasize that a seemingly simple gesture can generate many positive ripples."
Coach Wright makes this Culture idea a reality starting with his own behavior.
In the Acknowledgment Chapter of his book, Coach Wright thanks by name over 70 people from the Villanova Athletic Department and over 60 outside of it. His acknowledgements range from the School President to the Travel Coordinator, to the Director of Equipment, to the Director of Tickets, to the Public Safety staff and to the Undergraduate Office Assistants. Coach Wright doesn't leave any invisible contributors.
"The Villanova end-of-the-year Basketball Banquet has been described as: "900 attendees, 800 shout-outs from the podium." Near the end of the banquet each graduating senior offers a few remarks. This includes walk-ons and a representative of our student managers too, since they all play such important roles."
Coach Wright does not limit the acknowledgement of others to the basketball staff. In his book he describes an annual ritual:
"At the Annual Team Christmas Party, we ask each player to write a Christmas thank-you letter to three people who have impacted their lives positively. The notes don't have to be lengthy. A simple Merry Christmas and thank you usually gets the job done. But it brings us all back to the notion that we aren't in this alone and that we have had help getting where we are."
Real team basketball players hand their warmups and towels to the team manager with a thank you. They don't drop them on the ground. Real team salespeople put things back where they belong and always thank the support staff for their efforts.
What specific consistent behaviors demonstrate your Culture?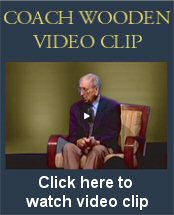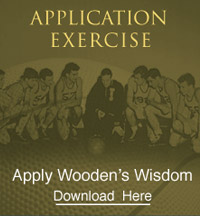 COACH'S FAVORITE POETRY AND PROSE
Youth
If I had youth I'd bid the world to try me;
I'd answer every challenge to my will.
Though mountains stood in silence to defy me,
I'd try to make them subject to my skill.
I'd keep my dreams and follow where they led me;
I'd glory in the hazards which abound.
I'd eat the simple fare privations fed me,
And gladly make my couch upon the ground.
If I had youth I'd ask no odds of distance,
Nor wish to tread the known and level ways.
I'd want to meet and master strong resistance,
And in a worth-while struggle spend my days.
I'd seek the task which calls for full endeavor;
I'd feel the thrill of battle in my veins.
I'd bear my burden gallantly, and never
Desert the hills to walk on common plains.
If I had youth no thought of failure lurking
Beyond to-morrow's dawn should fright my soul.
Let failure strike—it still should find me working
With faith that I should someday reach my goal.
I'd dice with danger—aye!—and glory in it;
I'd make high stakes the purpose of my throw.
I'd risk for much, and should I fail to win it,
I would not even whimper at the blow.
If I had youth no chains of fear should bind me;
I'd brave the heights which older men must shun.
I'd leave the well-worn lanes of life behind me,
And seek to do what men have never done.
Rich prizes wait for those who do not waver;
The world needs men to battle for the truth.
It calls each hour for stronger hearts and braver.
This is the age for those who still have youth!

Edgar Allen Guest (1881-1959)