TRADITION: A BUILDING BLOCK OF TEAM CULTURE (JAY WRIGHT PART 9)
When you are recruiting a new team member it may be helpful to tell them about the history of your school or company. If you are recruiting a student athlete tell them more than just the history of your sport. Tell them about the history of the school itself. If you are hiring a new employee in a business don't just tell them about the company. Tell them inspirational biographical facts about the company's founder/founders.
This is the first step in welcoming a student athlete to a program, not just a team. It is the first step in inviting a new employee to have a career, not just a job.
Jay Wright does a wonderful job of this at Villanova. In his great book "Attitude", Coach Wright describes the value of tradition:
"Recognizing the individuals who came before us is a building block of team culture. People want to be part of a team they are proud to be a member of."
He expands on this idea when he talks about Villanova beyond the basketball program:
"The Augustinian traditions at Villanova inspire a lot of our alumni to give back, either financially or by volunteering to serve (or both). A lot of Villanova engineers work with the Peace Corps in Africa before coming back to start a lucrative career in the States. Business students do volunteer work before they go on to Wall Street. It's just a part of the Villanova culture: We want to excel and be our best, but we believe that being our best individually comes from being a part of a community. By giving back, we actually help one another to achieve the best of ourselves."
Coach Wright does an extraordinary job of connecting players of the past with his current teams. He describes it this way:
"Celebrating legendary teams is very much business as usual at Villanova. One of our core values is, "We play for those who came before us." Each time we have the chance to celebrate the coaches and players who helped build this tradition, it's a thrill."
In 2015 Coach Wright had the members of the 1995 team join his current team on the court to accept the trophy for the Big East regular season championship. The tradition of recognizing the efforts of the past as contributions to the success of today at Villanova is referred to as Tapping the Rock. Coach Wright describes it this way:
"There's a line from a poem that is so important to our program that we have it painted on the wall in our practice facility, there for all to see, every day, every time any member of our basketball family comes in or out of the Davis Center. The line is: Tap the Rock. It's a line from a poem about a stonecutter. The message is that everyone recalls the strike that breaks a rock apart, yet no one remembers the multiple blows that seemed to do no damage. We tell our guys that each of those first five hundred or one thousand or ten thousand taps are as important as the one that finally breaks the rock. "Stay focused on the process each day," we tell them, "even "if there appear to be no immediate results".
"Everyone's role is different, but their status is the same."
How can you help add tradition to the culture of your team?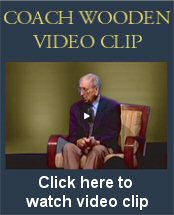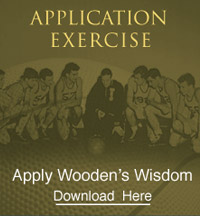 COACH'S FAVORITE POETRY AND PROSE
The Happy Slow Thinker
Full many a time a thought has come
That had a bitter meaning in it.
And in the conversation's hum
I lost it ere I could begin it.

I've had it on my tongue to spring
Some poisoned quip that I thought clever;
Then something happened and the sting
Unuttered went, and died forever.

A lot of bitter thoughts I've had
To silence fellows and to flay 'em,
But next day always I've been glad
I wasn't quick enough to say 'em.

Edgar Allen Guest (1881-1959)