THE FOUNDATION (ROY WILLIAMS PART 1)
As a head coach Roy Williams led Kansas to 14 consecutive NCAA tournaments and four final four appearances in fifteen-years. In sixteen years at North Carolina his teams have won three national championships and gone to 15 NCAA tournaments.
He is the only coach in NCAA history to have led two different programs to at least four Final Fours.
In addition to being incredibly organized, detail orientated, and knowledgeable Roy Williams is hard working, dependable, honest, considerate of others, positive and loyal. His character starts with his hero and first mentor, his mother. In his terrific book with Tim Crothers, Hard Work, Coach discusses this truly inspirational lady:
"My mother's name was Lallage. I thought she was an angel. She was intelligent. She was sweet. She was shy. She appreciated the simplest things in life. She lived by the Golden Rule: treat folks like you'd like to be treated. She had stopped school in tenth grade to go to work. Family was all that mattered to my mother. Family was her priority first and second, third, fourth, and fifth. Nothing ever got in the way of that. She always put the rest of the family ahead of herself. All she cared about was providing, having a roof over our head, clothes for us to wear, and food for us to eat.
My mother and father split for the first time just after I'd finished first grade. My mother took us away and the three of us lived all summer in a single room at the Shamrock Court Motel, which my aunt Doris owned. My mother would go off to work and my sister Frances was off doing odd jobs for somebody, so I would go around with another of my aunts, Leona, who was a maid at the motel. She paid me 25 cents a day to take off the dirty pillowcases and put on clean ones.
My mother was so strong, and she took such good care of me. When I started going to town by myself, she would always say, "You just do the right thing." One time, I said, "Mom, how do know what's right?" "You'll figure it out," she said. "You just make sure you do the right thing."
And so, one Saturday I didn't save a nickel for the bus ride home from the YMCA. I told the bus driver, Mr. Haynes, "I don't have a nickel. Can I ride the bus home and I'll give you back the nickel next week?" He said, "Come on in here, son." I got on the bus and rode home. The next Saturday morning I wasn't going to the YMCA until 9, but I knew the first bus would come to my stop at 7:30. I waited out at the bus stop and when it came, I walked up the stairs and gave Mr. Haynes a nickel. "I'll see you in an hour or so," I said. "I'm not riding this bus." He said, "Why didn't you just wait and bring it to me then?" "I didn't want you to think I wasn't going to pay you back."
Hard working, dependable, honest: for Roy Williams it started with his amazing Mother.
Who are you inspiring?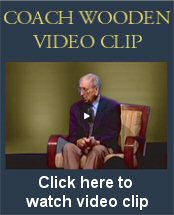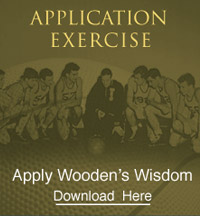 COACH'S FAVORITE POETRY AND PROSE
An Easy World
It's an easy world to live in if you choose to make it so;
You never need to suffer, save the griefs that all must know;
If you'll stay upon the level and will 'do the best you can
You will never lack the friendship of a kindly fellow man.

Life's an easy road to travel if you'll only walk it straight;
There are many here to help you in your little bouts with fate;
When the clouds begin to gather and your hopes begin to fade,
If you've only toiled in honor you won't have to call for aid.

But if you've bartered friendship and the faith on which it rests
For a temporary winning; if you've cheated in the tests,
If with promises you've broken, you have chilled the hearts of men;
It is vain to look for friendship for it will not come again.

Oh, the world is full of kindness, thronged with men who want to be
Of some service to their neighbors and they'll run to you or me
When we're needing their assistance if we've lived upon the square,
But they'll spurn us in our trouble if we've always been unfair.

It's an easy world to live in; all you really need to do
Is the decent thing and proper and then friends will flock to you;
But let dishonor trail you and some stormy day you'll find
To your heart's supremest sorrow that you've made the world unkind.

Edgar Allen Guest (1881-1959)