LASTING TALENT REQUIRES CHARACTER (ROY WILLIAMS PART FIVE)
In his terrific book, Hard Work with Tim Crothers, Hall of Fame Coach Roy Williams described a conversation he had with Coach Wooden:
"In the summer of 2000, I went to visit the legendary UCLA coach John Wooden and he said something that has always stuck with me: "Roy, you can coach talent. Some guys can't. Nobody can coach no talent, but you can coach talent." That has driven me ever since to make sure that I have talent to coach."
Coach Williams continued to explain how he focuses on the type of talent he wants:
"I recruit through a process of elimination. If I see a big guy who can't run, I don't recruit him, because I want our team to run. If I see a point guard who can shoot, but has no savvy, I won't recruit him, because I need a point guard who makes great decisions. Whenever I go out and recruit, I'm thinking, "This is the way I want to play. Can that kid do what I want him to do?" I need guys that can pass, I need guys that can shoot, I need guys that play at a high speed and I need guys that are self-motivated, but I have to allow for some give and take, because not everybody is going to be perfect.
When I decide that a kid has the talent I'm looking for, then I try to find out about his character. I once had an elementary school principal in Wichita, Kansas, tell me, "Coach, I wish you'd say academics is the second priority." "No ma'am," I said, "because if he's a great player and a 4.0 student but he's going to be a pain in the neck, I want it to be somebody else's neck.""
Marvin Williams helped lead North Carolina to the NCAA championship in 2004–05. In 2019 Williams signed a contract for his fifteenth season in the NBA. Coach Williams described how Marvin demonstrated his character as a high school player:
"I remember going to recruit Marvin, and in one game he had 36 points. But that wasn't what sold me on him. Marvin fouled out of that game, and while the crowd was giving him a standing ovation, he walked over to the end of the bench and grabbed five cups of water and handed them to the five guys who were going back into the game. I said to myself, "I really want that kid.""
Coach Wooden said: "Ability may get you to the top, but it takes character to keep you there." As an NBA player, Williams is described as a beacon of hard work, professionalism and leadership. His NBA coach, Charlotte's James Borrego, said this about Williams: "He is a warrior. The number one thing is he is a leader, he anchors that locker room. He gives us a wonderful professionalism out there every single night."
Williams displayed his character as a high school senior and sixteen years later he continues to do so in the NBA every night.
Are you recruiting talent that will last?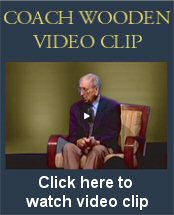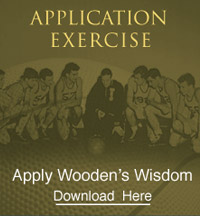 COACH'S FAVORITE POETRY AND PROSE
The Better Job
If I were running a factory
I'd stick up a sign for all to see,
I'd print it large and I'd nail it high
On every wall that the men walked by,
And I'd have it carry this sentence clear:
'The Better Job that you want is here!'*

It's the common trait of the human race
To pack up and roam from place to place;
Men have done it for ages and do it now,
Seeking to better themselves somehow;
They quit their posts and their tools they drop
For a better job in another shop.

It may be I'm wrong, but I hold to this
That somewhere something must be amiss
When a man worthwhile must move away
For the better job with the better pay;
And something is false in our own renown
When men can think of a better town.

So if I were running a factory
I'd stick up this sign for all to see,
Which never an eye in the place could miss:
'There isn't a better town than this;
You need not go wandering, far or near
The Better Job that you want is here!'

Edgar Allen Guest (1881-1959)