LISTEN, DON'T JUST TALK. (ROY WILLIAMS PART NINE)
The career of Hall of Fame North Carolina Coach Roy Williams did not start well. In 1973 he became the coach at Owen High School. His first season the team was 2-19, the second season 6-16 and his third season the team started 1-3. He lost his confidence. In his terrific book, Hard Work with Tim Crothers, Coach Williams recounted what happened next:
I talked to Carl Conley, who was a friend and a coach as well, and I said, "I don't know if I'm made out to do this stuff or not. Since the ninth grade this is all that I've ever wanted to do, but am I doing what I should be doing?" Carl told me to stick with it and that he really believed I was meant to be a coach. That was the only time I have ever doubted myself.
I felt like I was working hard, teaching the right drills, and preaching the right sermons and I thought that we should be able to win, but the other teams were not cooperating. I started questioning myself. Why are we not winning? That was a long weekend of soul searching.
On Monday I told the players to be at practice a half hour early for a meeting. In the meeting I said, "Guys, we're too good to be this bad. We've got too much potential to be doing this, but everybody's got to be willing to buy in. I want people to say whatever is on your mind right now. Let's get everything off our chests."
The little sophomore point guard, Kerner Long, said, "I think I should be able to shoot more. All you ever tell me to do is throw it inside to Bobby." I said, "That's right, because that's what's going to be best for our team."
Another guy told me he thought he should play more. I had to tell him he didn't play because he wasn't as good as the guys ahead of him. That made him cry, and I almost started crying there with him. We aired a lot of things that needed to be said, needed to be out in the open, so that I could explain why we were doing what we did.
There were some negative and some positive comments, but it established a better relationship among the players and gave them confidence that I would listen to their concerns and not just say, "I'm the coach, shut up and do what I tell you." It made them believe that they could trust me.
It was a very emotional meeting, the first time I'd really gotten the kids to be honest with me. That meeting saved the season and, who knows, maybe saved me as well. After that, we won nine games in a row. It restored my faith that I could get everybody to accept their roles and work together for a common goal."
In the book, The Seven Secrets of Successful Coaches by Jeff Janssen, Coach Williams described how he still uses the same approach as a College Coach:
"Well, I bring the kids in and we close the door. I say, "Okay when I close that door you can say anything you want to say from 'Coach, you're not playing me enough' to 'You're a bad coach,' to 'I'm fine, everything's perfect." They can say if they don't think they're improving.
Before they leave I will either agree with them or explain to them why I don't agree with them and they just must understand that I'm being truthful. I try to never blow smoke with my players. I tell them what they need to hear, not what they want to hear. I tell them the truth. When I was in high school, Buddy Baldwin told me, "If you tell the truth, you won't have to remember what you said."
How do you have direct honest communication?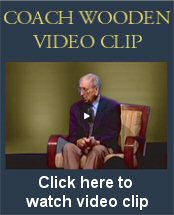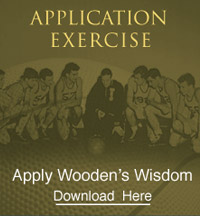 COACH'S FAVORITE POETRY AND PROSE
Alone
Strange thoughts come to the man alone;
'Tis then, if ever, he talks with God,
And views himself as a single clod
In the soil of life where the souls are grown.
'Tis then he questions the why and where,
The start and end of his years and days,
And what is blame and what is praise,
And what is ugly and what is fair.

When a man has drawn from the busy throng
To the sweet retreat of the silent hours,
Low voices whisper of higher powers.
He catches the strain of some far-off song,
And the sham fades out and his eyes can see,
Not the man he is in the day's hot strife
And the greed and grind of a selfish life,
But the soul of the man he is to be.

He feels the throbbing of life divine,
And catches a glimpse of the greater plan;
He questions the purpose and work of man.
In the hours of silence his mind grows fine;
He seeks to learn what is kept unknown;
He turns from self and its garb of clay
And dwells on the soul and the higher way.
Strange thoughts come when a man's alone.

Edgar Allen Guest (1881-1959)