EXPECT EXCELLENT EFFORT NOT EXCELLENT RESULTS (VALORIE KONDOS FIELD PART 8)
As the Gymnastics Coach at UCLA from 1991 to 2019 Valorie Kondos Field, often referred to as Miss Val, coached the Bruins to seven National Championships.
In addition to both winning multiple National Championships Miss Val and Coach Wooden both had parents who took the same approach to life. In her must-read book Life Is Short, Don't Wait to Dance, Miss Val provides a great perspective on how her Mom influenced her approach to coaching:
"Growing up my mom did not pass judgments and never put pressure on me or my brother, Steve, to be "the best." Some of my friends' parents did pressure them to excel, and I realized, even then, how much more joy I had because my mom just let us be. It was such a liberating feeling not to have to achieve a standard set by my parents. I could just savor life's experiences.
My mom also taught me that making a mistake was simply a way to learn something. I remember one night at the dinner table we were in the middle of a discussion when I spilled a glass of milk that blanketed the entire table. My mom didn't even flinch, she just kept on with our conversation while she retrieved a towel to mop up the mess. I laugh now because that was a living example of the proverb Don't cry over spilled milk. I did not grow up with a "fear of failure." I honestly do not acknowledge failure as something to be ashamed of. I believe it is just another "word" some mean-spirited person assigned a meaning to make others feel bad. How can something be a failure if you've learned something from the experience?
I learned very young not to spend time comparing what I don't have to what someone else does have. I learned that it's all about your own perceptions and about making what you do have work for you the best that you can."
When John Wooden was asked: "What would you say is one of the most important things your father taught him?" He replied: "Never try to be better than someone else; but always be learning from others. Never cease trying to be the best you can be. One is under your control the other isn't."
Coach and Miss Val both created an environment for their athletes where the expectation was intelligent effort not excellent results relative to others. By doing this they eliminated the "standard fear of failure" and created a place where athletes were joyful, engaged and excited to keep trying again and again irrespective of the outcome of their efforts as opposed to being discouraged and giving up. Armed with a fearless attitude the athletes were able to get enough repetitions over time to get the best results of which they were capable.
What type of environment do you create?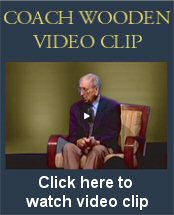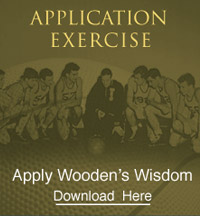 COACH'S FAVORITE POETRY AND PROSE
His Philosophy
Jim had a quaint philosophy,
'It ain't fer you, it's jes' fer me,'
He used to say. 'I don't p'tend
T' force it onto foe or friend;
I don't advise or recommend
This way or that fer him nor you,
Or try t' tell you what t' do;
But I jes' take myself aside
An' teach him tricks he's never tried.

'I kinder take myself in hand
An' try t' make him understand
That he must do a full day's work,
An' ain't got time t' loaf an' shirk;
An' when he gets a load of care,
His shoulders are the ones t' bear
That burden, not his neighbors or
Some friend he might go running for.

'I try t' teach myself t' smile,
T' whistle every little while,
T' take whatever comes his way
As his just portion of th' day;
An' not complain an' fume an' frown,
An' vow th' world is runnin' down
An' ragged at th' heel becoz
Things ain't as pleasant as they was.

'Fer I've got all that I can do
T' keep myself in line; that's true.
It ain't fer me t' stand up now
An' try t' tell my neighbors how
They ought t' live, an' what t' do,
T' hold up all their faults t' view.
Reformin' others may be fine,
But somehow that ain't in my line.

'Yes, I've my own philosophy,
But it 's intended jes' fer me;
It's made t' keep myself in line,
T make me never show a sign
Of fear or cowardice when things
Go wrong or untold sorrow stings,
An' that is all that I can do —
You'll have t' say what's best fer you.'

Edgar Allen Guest (1881-1959)