COACH THE PERSON FIRST (VALORIE KONDOS FIELD PART 10)
As the Gymnastics Coach at UCLA from 1991 to 2019 Valorie Kondos Field, often referred to as Miss Val, coached the Bruins to seven National Championships.
In her must-read book Life Is Short, Don't Wait to Dance Miss Val describes her philosophy on coaching. Her comments follow in "italics" followed by my perspective in normal font:
"A coach is a person who motivates change. Parents, teachers, coaches—anyone who has a strong influence over the development of others, especially children—have the most important job in the world. Overall, it's our job to motivate change: mentally, emotionally, and physically. The only reason people need coaches is to help them accomplish things they can't do on their own. A great coach is there to help us see things in a new light."
A Coach has the chance to influence others by setting an example of unselfishness and positive thinking. It is not productive for a Coach to dwell on the lack of ability of his/her players or resources.
The Coach should take every challenge as an opportunity; this leads to solutions. The Coach should not take a challenge as a problem; this leads to excuses. After the 1962 season Coach Wooden described how he changed his approach to coaching this way: "There would be no excuses in the future, only a ceaseless search for solutions."
Miss Val added this:
"When I began coaching, I quickly learned that I have a very competitive spirit and, like most of us, I don't like to lose. I also intrinsically knew that there had to be something more to sports than just being able to say, "Ha-ha, we beat you!" although winning is fun! To feel good about being a coach I knew there had to be more to this leadership position than bragging rights and acquiring trophies. Sport encompasses strengthening the mind, body, and spirit. Sport develops emotional stamina—our character. Team sports connect us to one another, resulting in the vital realization that the rewards of accomplishing something together are far greater than anything we accomplish on our own. From the moment I read and absorbed Coach Wooden's definition of success, my approach to coaching has always been to coach the person before the athlete."
Whether it is sports, business or parenting, a successful Coach gets each person to take their challenges as opportunities for solutions that lead to improvement ("the advantage in the disadvantage" – "the better from the bad") not problems.
When the Coach inspires collective "Solutions Department" thinking the group connects and improves in more than just a "1+1 =2" manner. Some folks call it "magic".
What do you do to influence the thinking process of your individual team members beyond just strategy?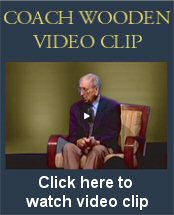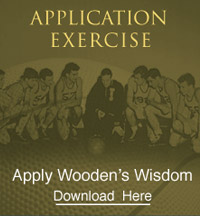 COACH'S FAVORITE POETRY AND PROSE
Answering The Grumblers
When night time comes an' I can go
Back to the folks who love me so,
An' see 'em smile an' hear 'em sing,
An' feel their kisses, then, by jing!
I vow this world is mighty fine
An' run upon a great design.

I trudge away at break o' day
An' hear the grumblers round me say,
This world ain't what it ought to be,
With so much care an' misery,
An' so much work for all to do,
An' little comfort when you're through.

But all the time I'm thinkin' of
The faces of the ones I love,
An' every minute I can see
Their bright eyes laughing right at me,
An' I can almost hear 'em say:
"Come home, come home, an' we will play.'

An' sometimes when the daily grind
Sends bitter thoughts into my mind,
An' I get thinkin' that of care
I draw far more than is my share,
I hear 'em hum their merry song,
An' then I know such thoughts are wrong.

I never doubt this world is good,
I couldn't doubt it if I would
For all the trouble that I meet
I gather compensation sweet
When night time comes an' I can go
Back to the folks who love me so.

It ain't no use for grumblers here
To tell me that this life's severe,
To say this world's a vale of woe,
For I've got proof that it ain't so,
When wearily I trudge away,
They're whisperin', whisperin': 'Soon we'll play.'

Edgar Allen Guest (1881-1959)