SWEEP THE SHED (Graham Henry Part 1)

The "All Blacks" are New Zealand's national rugby team. Their name comes from their iconic black uniforms which are recognized worldwide as quickly as a New York Yankees or Los Angeles Lakers jersey. The All Blacks have won the Rugby World Cup three times and hold a lifetime winning percentage of 77% - the highest of any professional sports team in the world.
On a global level many believe The All Blacks (started in 1902) are the most successful sports franchise in history. The All Blacks and John Wooden's UCLA Bruins both share a team culture that is built on humility, consideration for others and self-reliance.
In his book Legacy, What The All Blacks Can Teach Us About The Business Of Life, James Kerr describes what the All Blacks do in the locker room after every match:
"Darren Shand, the manager, gently clears the locker room of journalists, politicians and sponsors. It is just the team. They debrief. Head Coach Graham Henry concludes by congratulating Richie McCaw on becoming the most successful captain in All Blacks history. Then he tells the team there's work to be done. A lot of work to be done.
'Well done, guys,' he says. 'Let's go.' ˜ This is when something happens that you might not expect. Two of the senior players – one an international player of the year, twice – each pick up a long-handled broom and begin to sweep the sheds. They brush the mud and the gauze into small piles in the corner.
While the country is still watching replays and schoolkids lie in bed dreaming of All Blacks' glory, the All Blacks themselves are tidying up after themselves. Sweeping the sheds. Doing it properly. So, no one else has to. Because no one looks after the All Blacks. The All Blacks look after themselves."
Former All Black great Andrew Mehrtens says: "It's not expecting somebody else to do your job for you. It teaches you not to expect things to be handed to you."
All Black Legend David Carter describes it this way: "No one in New Zealand likes a big head, in the All Black environment there's no room for it, and if there's ever signs of it happening, you'll be brought back down to earth. From the very start you learn humility. There are the structures in place, like the fact that we always leave the changing room as clean as it was when we walked in. So, you'll often see the likes of Richie McCaw (the Michael Jordan of Rugby) and the Head Coach sweeping in the shed."
It is not coincidental that John Wooden himself and the players fastidiously cleaned their locker room themselves after every game; leaving it nicer than the way they found it. Under no circumstances did John Wooden want the team managers picking up after the players.
Who cleans your locker room? Who cleans your employee break room?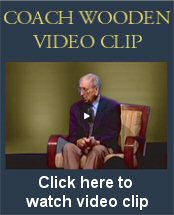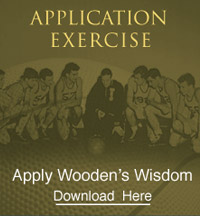 COACH'S FAVORITE POETRY AND PROSE
Happiness
If the sunbeams will not start you to rejoicing,
If the laughter of your babies you can hear
Without little songs of gladness gayly voicing,
If their dancing doesn't drive away your tear;
If you don't find happiness where they are playing,
If they do not make your pathways bright and sunny,
Then gladness from your heart has gone a-straying
And you won't be any happier with money.

If the blue skies bending over you don't thrill you,
If the roses just a-bursting into bloom
With a sense of perfect pleasure do not fill you,
If the song birds do not chase away your gloom;
If you cannot find contentment in your cottage
Then your heart for joy has not become a chalice,
If you cannot, smiling, eat your simple pottage,
Then you'd not be any happier in a palace.

If a troop of healthy, laughing boys and lassies
Doesn't strike you as a reason to rejoice;
If the glories of the earth, when winter passes,
You behold and still retain a whining voice;
If it doesn't rouse your spirits to go fishing,
Then your heart is but a cupboard for despair,
And for money all in vain today you're wishing,
You'd make a most unhappy millionaire.

Edgar Allen Guest (1881-1959)