The All Black Basic:"Whanau" (Graham Hennry PART 3)

The "All Blacks" (started in 1902) are New Zealand's national rugby team; they have won the Rugby World Cup three times and hold a lifetime winning percentage of 77% - the highest of any professional sports team in the world. In 2003 the All Blacks had gone into a competitive decline by their standards with a loss to the Australians in the World Cup semi-finals. Head Coach Sir Graham Henry had been brought in change their team culture. His changes ultimately led to consecutive World Cup Championships and the most successful period of All Blacks rugby in history.
Henry started changing the culture with a simple mantra: "Better people make better All Blacks". His approach to deciding who he would allow to be on the team bears a striking resemblance to John Wooden's UCLA Bruins.
Coach Wooden described his selection process this way: "I consider quickness to be the most important physical asset for an athlete. Second to quickness, I wanted to know what kind of person he was: Was he a team player or could he be made into a team player?" Coach Wooden once stopped recruiting a top prospect on the spot, because he was disrespectful to his mother. Talent alone did not qualify you for a scholarship on John Wooden's teams.
Henry instituted a formal stated policy that excluded highly talented prima-donnas from the All Blacks. It is called Whanau which in In Maori, means 'extended family'. Whanau is symbolized by a spearhead with three tips. For the spear to be effective, all its force must move in one direction.
Henry believed that a collection of talented individuals without personal discipline will ultimately and inevitably fail. Character with talent triumphs over talent without character. The team must fly in formation. No one is bigger than the team and individual brilliance doesn't automatically lead to outstanding results.
One selfish mindset can infect a collective culture. You can develop talent; you may not be able to change character. Under Henry, some of New Zealand's most promising players never put on the black jersey – because they didn't have the right character. Their inclusion would have been detrimental to the Whanau. Henry replaced the 'me' with the 'we'.
All Blacks assistant coach, Wayne Smith put it this way: "If you think of physical conditioning, technical understanding and tactical appreciation as forming three legs, the stool isn't balanced unless you have psychological strength as well." For the All Blacks, humility is seen as a vital part of a well-adjusted character.
Coach Wooden rigorously screened potential student-athletes with written surveys to the coaches of the other teams in the prospect's high school league.
How do you prevent "highly talented prima-donnas" from being on your team?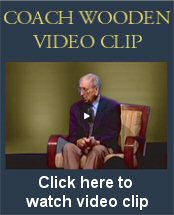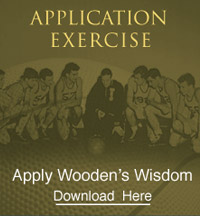 COACH'S FAVORITE POETRY AND PROSE
The Simple Things
I would not be too wise- so very wise
That I must sneer at simple songs and creeds,
And let the glare of wisdom blind my eyes
To humble people and their humble needs.

I would not care to climb so high that I
Could never hear the children at their play,
Could only see the people passing by,
And never hear the cheering words they say.

I would not know too much- too much to smile
At trivial errors of the heart and hand,
Nor be too proud to play the friend the while,
Nor cease to help and know and understand.

I would not care to sit upon a throne,
Or build my house upon a mountain-top,
Where I must dwell in glory all alone
And never friend come in or poor man stop.

God grant that I may live upon this earth
And face the tasks which every morning brings
And never lose the glory and the worth
Of humble service and the simple things.

Edgar Allen Guest (1881-1959)