"CHAMPIONS DO EXTRA" (GRAHAM HENRY PART 4)

The "All Blacks" (started in 1902) are New Zealand's national rugby team; they have won the Rugby World Cup three times and hold a lifetime winning percentage of 77% - the highest of any professional sports team in the world. A key mantra of the All Blacks is: Champions Do Extra.
In August of 1976 I walked through Pauley Pavilion on the UCLA campus at 7 AM and was only slightly surprised to see our preseason all American Marques Johnson by himself shooting free-throws. I recalled my experiences as a student at UCLA during the John Wooden era when I would get taken to school at night by Larry Farmer (89-1, with 3 National Championships) on the outdoor courts behind the Reiber Hall Dormitory or getting my clock cleaned over and over until 9PM at night in the same Pauley Pavilion by Henry Bibby (87-3, with 3 National Championships) or my former roommate Andre McCarter, the point guard of John Wooden's last national championship team, waking me at 5AM as he went off to dribble the dirt cross country course at UCLA to get some extra conditioning and improve his dribbling skills. I knew John Wooden's UCLA champions did extra.
I walked back through the gym at noon and there was Marques working on his jump shot. At 3PM he was playing in full court pick-up games, playing only on the perimeter (he was already an excellent inside player). At 7PM I walked through the gym and was surprised to see Marques still there working on his craft.
At 9PM I left my apartment and headed over to Sawtelle Park to get some shots up. The park had an outdoor court partially lit by a security light from the top of the office. As I walked across the lawn, I saw a figure gracefully rise and dunk the ball with an ease and elevation I immediately recognized. Startled I said "Cap (that's what we called Marques) is that you? What are you doing here?" Marques replied; "Just working on my game Coach." Marques became the first recipient of The John R. Wooden Award for college player of the year.
If you take piano lessons and practice properly to prepare for your next lesson you will become a very good piano player. If you play five or six hours a day until your parents or neighbors tell you to stop, you might become a concert pianist. If you do your job well and go to company provided training, you will be a good manager. If you go home and voraciously read everything you can about leadership, you may become a leader.
To be a champion requires self-initiated extra time at your craft. Champions Do Extra.
Do you?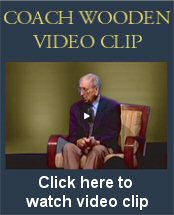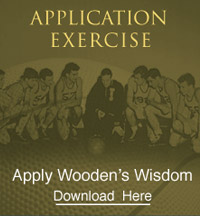 COACH'S FAVORITE POETRY AND PROSE
Home and the Office
Home is the place where the laughter should ring,
And we should be found at our best.
Let the cares of the day be as great as they may,
The night has been fashioned for rest.
So leave at the door when the toiling is o'er
All the burdens of worktime behind,
And just be a parent to your girl or your lad—
A parent of the rollicking kind.

The office is made for the tasks you must face;
It is built for the work you must do;
You may sit there and sigh as your cares pile up high,
And no one may criticize you;
You may worry and fret as you think of your debt,
You may grumble when plans go astray,
But when it comes night, and you shut your desk tight,
Don't carry the burdens away.

Keep daytime for toil and the nighttime for play,
Work as hard as you choose in the town,
But when the day ends, and the darkness descends,
Just forget that you're wearing a frown—
Go home with a smile! Oh, you'll find it worthwhile;
Go home light of heart and of mind;
Go home and be glad that you're loved as a mom or dad,
A parent of the fun-loving kind.

Edgar Allen Guest (1881-1959)