"CHAMPIONSHIP HABITS" (SUZANNE YOCULAN PART ONE)

Suzanne Yoculan was the head coach of the women's gymnastics program at the University of Georgia from 1983 to 2009. Coach Yoculan's teams (the Gym Dogs) won10 NCAA championships, including a run of 5 consecutive national championships during her final 5 seasons.
Coach Yoculan' s teams had four undefeated seasons and her 7 National Championships in her last 11 seasons reminds me of Coach Wooden's championship run at the end of his career. Coach Yoculan and Coach Wooden had many championship habits in common. One of them was their communication and philosophy on winning. In her book, Perfect 10 with Bill Donaldson, she described her approach:
"Andy Landers, coach of the UGA women's basketball team, told me once about his team philosophy: "We don't have expectations, we have intentions."
I thought a lot about that, as I have always believed people only do what's expected of them. But it makes sense: expectations can feel like pressure, but intentions come from within, and intentions can drive an individual or team to succeed.
Every time we compete, we intend to win! "You must always want to win," I tell my team, "but winning's not the only thing.
"Winning isn't everything, it's the only thing," has been attributed thousands of times to Vince Lombardi, but Bartlett's Familiar Quotations attributes it to coach Red Sanders of Vanderbilt University (in 1953). The legendary Green Bay Packers quarterback, Bart Starr, commented on Lombardi's philosophy about winning: "Winning to Lombardi was not everything, nor the only thing. He was more interested in seeing us make the effort to do our best. If we did, he knew that winning would probably take care of itself." I follow the same philosophy.
Coach Yoculan and Coach Wooden were both able to produce multiple consecutive National Championships with different groups of athletes in high pressure single elimination, winner take all formats. To be sure, both Coaches had terrific athletes (No Coach can coach no talent but not every Coach can coach talent.)
The championship habit Coach Yoculan and Wooden both applied was to recognize that their athletes had an intense desire to win and redirected that desire to focusing on their best effort and away from the expectations of others. This approach created an intense but relaxed mentality that allowed for peak performance in the most competitive situations.
The Coach or Sales Manager who constantly clamors about the need to win the game, beat the other team or hit the number creates more tension for the elite competitor and the coach becomes another obstacle to overcome. Coaches Yoculan, Wooden and Lombardi have shown what real championship habits look like.
Are you an obstacle or a builder of championship habits?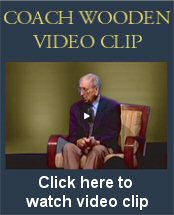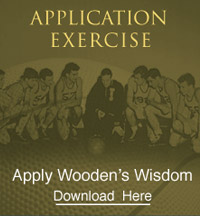 COACH'S FAVORITE POETRY AND PROSE
The Common Touch
I would not be too wise—so very wise
That I must sneer at simple songs and creeds,
And let the glare of wisdom blind my eyes
To humble people and their humble needs.
I would not care to climb so high that I
Could never hear the children at their play,
Could only see the people passing by,
Yet never hear the cheering words they say.
I would not know too much—too much to smile
At trivial errors of the heart and hand,
Nor be too proud to play the friend the while,
And cease to help and know and understand.
I would not care to sit upon a throne,
Or build my house upon a mountain-top.
Where I must dwell in glory all alone
And never friend come in or poor man stop.
God grant that I may live upon this earth
And face the tasks which every morning brings,
And never lose the glory and the worth
Of humble service and the simple things.

Edgar Allen Guest (1881-1959)