"CHAMPIONSHIP DISCIPLINE" (SUZANNE YOCULAN PART FIVE)
Legendary Georgia Women's Gymnastics coach Suzanne Yoculan and Coach Wooden both won 10 NCAA championships. They had much in common in their approach to discipline.
Coach Wooden liked to say: "Discipline yourself and others won't need to." In her book, Perfect 10 with Bill Donaldson, Coach Yoculan described her approach:
"Self-discipline to tenaciously pursue one's full potential is the most important success factor in athletic and other accomplishments. I like to think that the word "self" is an understood modifier of discipline, because if someone else is controlling your activities, you're not exercising discipline, you're merely following instructions."
Success depends on an individual's discipline to perform arduous activities on his or her own initiative. Coach Wooden had only three rules and several expectations. Coach Yoculan discussed how she used guidelines:
"If you can define objectives without directing team members, in detail, how to achieve those objectives, they are likely to come up with better approaches than the ones you might devise. So, I much prefer general guidelines to hard and fast rules, but the guidelines must have well-understood boundaries. And a gymnast must understand that if she goes beyond those boundaries, there will be appropriate adverse consequences.
I emphasize "using good judgement," and when I say a gymnast uses good judgement it means that I am happy with the decision she makes. The gymnasts must do some analysis to determine for themselves what constitutes good judgement. And, after all, that's what they'll have to do when they're out on their own."
Coach Wooden often said: "The purpose of discipline is to teach, not to punish." Coach Yoculan put it this way:
"Corrective action must be carefully thought out before it is implemented. It must have a positive result. It should not reflect a coach's anger, even though we all get angry with athletes at times. You must be predictable, consistent, and direct. Don't play games. Don't be sarcastic.
It is essential that an athlete undergoing corrective action — you notice I don't say "being disciplined" - understands that she was told of the guidelines or rules she violated before she violated them. She must know, given the same circumstances, that anyone else with a similar past record would receive the same treatment. The treatment must not be embarrassing or demeaning, and the objective of improvement must be clearly appreciated by the one undergoing the action and the other team members. I work to make every aspect of our program positive.
Making athletes feel that discipline is positive isn't easy, But it can and should be done. When discipline truly achieves its goal, the athlete feels good about it, you feel good about it, the other coaches feel good about it, and the teammates feel good about it."
What results do you get when you take corrective action?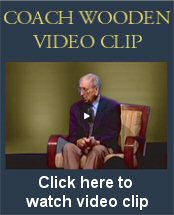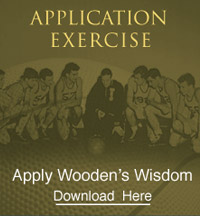 COACH'S FAVORITE POETRY AND PROSE
As It Is
I might wish the world were better,
I might sit around and sigh
For a water that is wetter
And a bluer sort of sky.
There are times I think the weather
Could be much improved upon,
But when taken altogether
It's a good old world we're on.
I might tell how I would make it,
But when I have had my say
It is still my job to take It
As it is, from day to day.
I might wish that men were kinder,
And less eager after gold;
I might wish that they were blinder
To the faults they now behold.
And I'd try to make them gentle,
And more tolerant in strife
And a bit more sentimental
O'er the finer things of life.
But I am not here to make them,
Or to work in human clay;
It is just my work to take them
As they are from day to day.
Here's a world that suffers sorrow,
Here are bitterness and pain,
And the joy we plan to-morrow
May be ruined by the rain.
Here are hate and greed and badness,
Here are love and friendship, too,
But the most of it is gladness
When at last we've run it through.
Could we only understand it
As we shall some distant day
We should see that He who planned it
Knew our needs along the way.

Edgar Allen Guest (1881-1959)