"FIERCE AND FRIENDLY" (ANSON DORRANCE PART FIVE)
As the Woman's Soccer Coach at the University of North Carolina, Anson Dorrance's teams have won 22 National Championships In 42 years. Coach Wooden and Coach Dorrance both had practice environments that were fiercely competitive between the players but when practice was over the fierce competitors were friends.
Coach Wooden maintained this balance by never letting players criticize each other, keeping the focus on their own best effort as opposed to trying to be better than someone else, demanding emotional self-control and keeping basketball in proper perspective.
In his fantastic 1996 book, Training Soccer Champions, with Tim Nash, Coach Dorrance discusses how he tried to keep the balance between fierce practice competition and friendly players:
"I have never looked at competition in any sort of negative light. For me, the competition itself is the only thing in which I am competitive. Once the competition is over, it isn't an issue anymore.
And I think winning and losing gracefully is critical. In our program, we try to maintain a balance between furious competition and a light-heartedness because there can be all kinds of negative spin-offs from competition. It can shatter team chemistry. It can create an environment that is oppressive.
And what I like about what has happened over the years here at North Carolina is that we have figured out a way to make the practice environments unbelievably competitive. But the rest of the time — even when the drill is over, and the young women are jogging to the water fountain — it's lighter. We figured out a way to maintain that balance.
Competition is an underlying theme to what we do at UNC, but there are a lot of other themes as well. If we used competition as the only aspect of what we do here, we'd be missing the point. In fact, the players don't talk about it. Those are not the memories they take with them.
I remember one-time Keri Sanchez and I were invited to be on the ACC Hotline radio show, and we talked about the program here. Keri was asked a question point-blank. Mick Mixon, the host, said, "Pretend Anson isn't here, and tell us what you have learned most from the program at UNC?" Keri said, "Most of the things I've taken from the program have nothing to do with soccer. They have to do with life and relationships." Competition is something that is woven into the fabric of our player development. But it is not what the players feel, and that's what is important."
John Wooden and Anson Dorrance were two of the fiercest competitors in the history of college sports. They were able to achieve amazing results over the long run, in part because they were able to create an extremely competitive team environment every day in practice but maintain proper perspective and thus not let the competition between team members ruin their relationships.
It is an example from which any sales organization could benefit.
Are your team members fierce and friendly?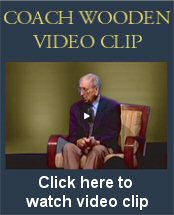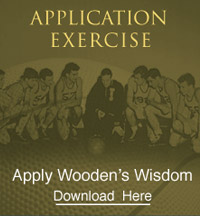 COACH'S FAVORITE POETRY AND PROSE
Stuck
I'm up against it day by day,
My ignorance is distressing;
The things I don't know on the way
I'm busily confessing.
Time was I used to think I knew
Some useful bits of knowledge
And could be sure of one or two
Real facts I'd gleaned in college.
But I'm unfitted for the task
Of answering things my child can ask.

Now, who can answer queries queer
That four-year-olds can think up?
And tell in simple phrase and clear
Why fishes do not drink up
The water in the streams and lakes,
Or where the wind is going,
And tell exactly how God makes
The roses that are growing?
I'm sure I cannot satisfy
Each little when, and how, and why.

Had I the wisdom of a sage
Possessed of all the learning
That can be gleaned from printed page
From bookworm's closest turning,
That eager knowledge-seeking lad
That questions me so gayly
Could still go round and boast he had
With queries floored me daily.
He'll stick, I'll bet, in less than five
Brief minutes any man alive.

Edgar Allen Guest (1881-1959)