"PROPER PERSPECTIVE AND CONFIDENCE" (ANSON DORRANCE PART SIX)
As the Woman's Soccer Coach at the University of North Carolina, Anson Dorrance's teams have won 22 National Championships In 42 years. Coach Wooden's teams won 10 National Championships in his last 12 seasons. Coach Dorrance and Coach Wooden both had the same approach to producing confident players using three key components: properly defining confidence, proper preparation and proper perspective.
The dictionary defines confidence as: "The quality or state of being certain." Both Coaches understood you could not be "certain (confident)" regarding the outcome of a competition or whether you would get a sale. You, could however, be "certain (confident)" about giving your best effort if you were properly prepared.
Both Coaches also knew that if their team members placed too much importance on an athletic event and lost the proper perspective, they could become fearful and "tight" and unable to perform at their best. This proper perspective in no way diminished the fierce competitive intensity with which their teams prepared and competed. If anything, with fear removed, it unleashed their competitive energy at its fullest.
Coach Wooden captured this idea with his definition of Confidence: "Respect without fear. May come from being prepared and keeping all things in proper perspective." He reinforced the idea by constantly reminding his players they were students first, never taking about winning and demanding their absolute best effort every practice.
In his fantastic 1996 book, Training Soccer Champions with Tim Nash, Coach Dorrance discussed how he combines high intensity preparation and competitiveness with proper perspective:
"Getting your team to transcend ordinary effort is the challenge in every train¬ing session and every match. I think when we are doing our best job at North Carolina, we are getting our players to apply extraordinary effort. You just don't develop when you train without intensity.
But you must balance intensity and competition with a light-heartedness about athletics itself. It's not that big a deal. It's just a game.
It always amuses me when I get an urgent phone call. How could I get an urgent phone call about soccer? There is nothing urgent in what we are doing here. Sometimes in athletics, we give everyone the impression that we are doing something of tremendous importance, but it's not really all that important."
Keri Sanchez, a former All American for Dorrance who played on four consecutive National Championship Teams (97-1-1 combined overall record) and scored the match-winning goals in consecutive national championship games against Duke (1992) and George Mason (1993), described how Coach Dorrance's approach impacted her as a confident competitor:
"Anson is always telling us that soccer is just a game, and it's no big deal. As a result, we don't feel a whole lot of pressure about the game, and what we come away with is an attitude that what is critical is that we try."
Does the perspective you give your team members create fear or confidence?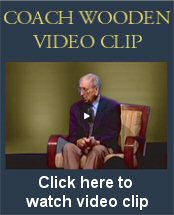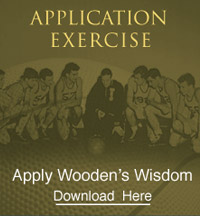 COACH'S FAVORITE POETRY AND PROSE
I
Nobody hates me more than I;
No enemy have I to-day
That I so bravely must defy;
There are no foes along my way,
However bitter they may be,
So powerful to injure me
As I am, nor so quick to spoil
The beauty of my bit of toil.

Nobody harms me more than I;
No one is meaner unto me;
Of all the foes that pass me by
I am the worst one that I see.
I am the dangerous man to fear;
I am the cause of sorrow here;
Of all men 'gainst my hopes inclined
I am myself the most unkind.

I do more harmful things to me
Than all the men who seem to hate;
I am the fellow that should be
More dreaded than the works of fate.
I am the one that I must fight
With all my will and all my might;
My foes are better friends to me
Than I have ever proved to be.

I am the careless foe and mean;
I am the selfish rival too;
My enmity to me is seen
In almost everything I do.
More courage it requires to beat
Myself, than all the foes I meet;
I am more traitorous to me
Than other men could ever be.

In every struggle I have lost
I am the one that was to blame;
My weaknesses cannot be glossed
By glib excuses. I was lame.
I that would dare for fame or pelf
Am far less daring with myself.
I care not who my foes may be,
I am my own worst enemy.

Edgar Allen Guest (1881-1959)