"REAL COACHING" (ANSON DORRANCE PART EIGHT)
As the Woman's Soccer Coach at the University of North Carolina, Anson Dorrance's teams have won 22 National Championships. Coach Dorrance and Coach Wooden had similar approaches to coaching. Coach Wooden once reminded a former player turned coach: "You haven't taught until they learned.", responding to the coach's frustration with his players inabilities to properly execute fundamentals.
In his fantastic 1996 book, Training Soccer Champions, with Tim Nash, Coach Dorrance articulated his views on Real Coaching:
"There is a difference between telling somebody to do something and teaching them how to do it. Telling someone to do something is what an inexperienced coach feels coaching is all about. He stands on the sideline, rants and raves, screaming: "I can't believe it. I've told you not to clear the ball into the middle. If you don't clear it high and wide, they are going to finish that chance. How many times do I have to tell you not to clear the ball in the middle?" Well, there's someone who doesn't coach.
If you must yell at them from the sidelines, you haven't coached them. If you have coached something into someone, guess what, they are going to do it. Coaching is about effect. Telling someone the correct way to do something is not necessarily coaching them. If the coach is spending his practice teaching session lecturing his players with how much he knows about the game, he certainly isn't coaching them to perform. Maybe the best coaches are the ones who make the game seem simple and don't complicate practice with long-winded theories on how to play."
Coach Wooden liked to quote legendary basketball coach John Bunn who wrote: "Don't take thirty minutes to say something you should say in thirty seconds."
Coach Dorrance had excellent advice for Coaches who were great players: "Their natural abilities preclude them from an understanding of the process of typical player development, making them less effective coaches. To be effective coaches, they must work harder to be patient and learn the details about the process."
He provided a different caution for Coaches who had not been great players. "The coaches with the lackluster soccer resumes need to temper their lectures and not feel they have to prove their knowledge."
Coach Dorrance and Coach Wooden were great teachers, not just talkers. They made sure their players had enough time in practice to get their needed repetitions by being clear, concise and compelling in their instruction.
How can you improve?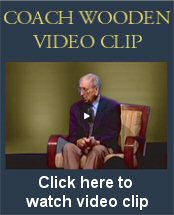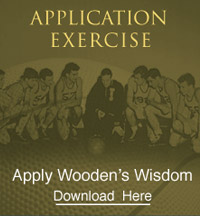 COACH'S FAVORITE POETRY AND PROSE
I'd Rather Be A Failure
I'd rather be a failure than the man who's never tried;
I'd rather seek the mountain-top than always stand aside.
Oh, let me hold some lofty dream and make my desperate fight,
And though I fail I still shall know I tried to serve the right.

The idlers line the ways of life and they are quick to sneer;
They note the failing strength of man and greet it with a jeer;
But there is something deep inside which scoffers fail to view-
They never see the glorious deed the failure tried to do.

Some men there are who never leave the city's well-worn streets;
They never know the dangers grim the bold adventurer meets;
They never seek a better way nor serve a nobler plan;
They never risk with failure to advance the cause of man.

Oh, better 'tis to fail and fall in sorrow and despair,
Than stand where all is safe and sure and never face a care;
Yes, stamp me with the failure's brand and let men sneer at me,
For though I've failed the Lord shall know the man I tried to be.

Edgar Allen Guest (1881-1959)