"A DIFFERENT APPROACH" (NICK SABAN PART TWO)
Nick Saban, the Head Football Coach at Alabama, has coached six teams to National Championships, winning his first in 2003 at LSU.
In an interview, from The Big Book Of Saban, compiled by Alex Kirby, Coach Saban discussed how a different approach is helpful in motivating today's players:
"It's an instant coffee, instant tea, instant self-gratification culture. Everything is on the Internet. Everything is a picture. Everything is fast. Everything is quick. There is not the same long-term commitment to something and sticking with it and learning from your mistakes.

I think with a lot of players right now, you must use a little different approach. But I think that at the end of the day they all want to be good. They all want to reach their full potential. And they all have a willingness that if you can help them do that, they have a respect for you, and they will give you everything they can to do it.
I think, first of all, you have to have the respect of the audience, so you have to have the respect of the players, which I think you get by them knowing that you have their best interest in mind and helping them develop a career off the field as well as athletically.
Our Mission Statement has always been to create an atmosphere and environment for players to be successful first as people.
We have a personal development aspect to our program that there's principles and values in the organization relative to developing a successful philosophy, creating the right kind of habits, thoughts, habits and priorities that are going to help you make good decisions, whether it's the Pacific Institute for Leadership Development coming in, whether it's a peer intervention program that address behavioral issues, drugs, alcohol, gambling, spiritual development, how to treat other genders; we spend a lot of time trying to develop personalities on our team, characteristics that will help them be more successful, be more successful in life."
Alabama football players are committed to hard work and constant improvement because their Coach demonstrates by his actions that he is more interested in helping them achieve success as people than as just football players.
What do you demonstrate to your team members by your actions?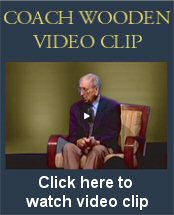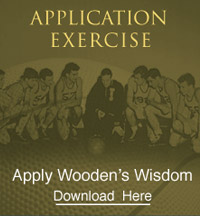 COACH'S FAVORITE POETRY AND PROSE
I'll Never Be Rich
I'll never be rich.
I'm too fond of the joy
Of a certain small girl
And a certain small boy;
And the nights full of fun
And the days full of play,
And the romp and the run
At the end of the day.

I'll never be rich.
I'm too eager to share
In the joys that are near,
Too unwilling to care
For the thing we call gold,
That I'll fill every day
Full of strife for the stuff,
And not rest by the way.

I'll never be rich.
There are too many charms
That I now can possess
When I stretch out my arms;
There are too many joys
That already I hold
That I cannot give up
Just to wallow in gold.

Edgar Allen Guest (1881-1959)