"MY GREATEST INFLUENCE" (NICK SABAN PART THREE)
Nick Saban, the Head Football Coach at Alabama, has coached six teams to National Championships. Coach Saban has said his biggest influence was his father. Saban grew up in Monongah, a coal mining town in West Virginia of about 1500 residents.
In an interview, from The Big Book Of Saban compiled by Alex Kirby, Coach Saban described how his father taught him the fundamentals of life, he has used to shape the football program at Alabama and influence the lives of his players:
"I had great parents. I was extremely fortunate growing up, My Dad had a service station and a little Dairy Queen restaurant, and I started working at that service station when I was 11 years old pumping gas. But in those days‑‑ notice I said it was a service station; it wasn't a self‑serve. So, you cleaned the windows, checked the oil, checked the tires, collected the money, gave the change, treated the customers in a certain way. We also greased cars, washed cars.
The biggest thing that I learned and started to learn at 11 years old was how important it was to do things correctly. There was a standard of excellence, a perfection. If we washed a car, and I hated the navy blue and black cars, because when you wiped them off, the streaks were hard to get out, and if there were any streaks when he came, you had to do it over. We learned a lot about work ethic. We learned a lot about having compassion for other people and respecting other people, and we learned about the importance of doing things correctly."
The core mission of Alabama Football is to serve the players in a manner that makes them better people and teaches them to help others. Coach Saban explained how this core value came from his father:
"My dad was a coach, but he never went to college. But he coached Pop Warner, American Legion baseball, He started out, bought a school bus. We had seven coal mining towns in the county. He would go in each coal mining town, up a hollow somewhere, pick the kids up, take them to practice. Took these country kids that didn't have an opportunity to play, taught them how to be successful, how to compete. The work ethic he taught, the standard of excellence, the integrity that you do things with, the attitude that you carry with you and the character that you carry with you, what you do every day. That certainly is something that has stuck with me."
Just as his father taught the youngsters in the coal mining towns of West Virginia, Coach Saban teaches his players at Alabama. The world is a little better place because of Coach Saban and his father.
Who are you teaching?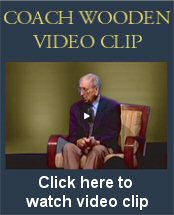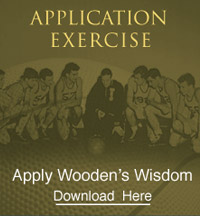 COACH'S FAVORITE POETRY AND PROSE
A Pat On The Back
A pat on the back is a wonderful thing,
It gives a man courage to whistle and sing;
When hope is departing, the outlook is grim,
A pat on the back then says volumes to him.
It whispers: 'Keep at it! You're doing all right,
Just dig in your toes and get busy and fight,
There's one man behind you, go to it, old man,
One pal who is sure that you can, that you can.'

A pat on the back from a stranger or friend
When your jaw starts to sag and your knees start to bend
Will bring you right up with new courage and grit
And you'll keep in the fight when you were going to quit,
You'll feel it, you'll hear it—yes, actually hear it—
For hours saying 'dig in, old fellow. Don't fear it,
That isn't as hard as it looks. Be a man,
There's a fellow back there who believes that you can.'

Just a pat on the back. And for days and for days,
No matter how far you may roam, it still stays
By your side, and no matter how hard be your fight
It's whispering always: 'You'll come out all right.
There's a fellow back there who's believing in you,
Expecting each minute to see you come through
With your colors still flying and leading your clan!'
And the first thing you know you are saying: 'I can.'

Oh, a pat on the back is a wonderful thing,
The touch of it's magic; I've known it to bring
Back hopes that were fleeting, and strength that seemed gone
And smiles that had vanished and urge a man on
When it seemed that he couldn't one step advance more
Till he conquered. And that's what I'm singing this for;
If you see a poor brother whose nerve's out of whack,
Just step up and give him a pat on the back.

Edgar Allen Guest (1881-1959)