"BELIEF + ACTION = INTEGRITY" (JOHN THOMPSON)
John Thompson was the basketball coach at Georgetown University from 1972 through 1999. In 1984 he became the first African American coach to win a major collegiate championship, capturing the NCAA men's division one basketball championship. Coach Thompson was elected into the Basketball Hall of Fame in 1999.
Thompson took the helm of a Georgetown basketball program that had finished its previous season with a record of 3-23. Over the next 27 years, Thompson's teams went 596-239 (.714) while running off a streak of 24 Postseason appearances - 20 in the NCAA tournament (including three appearances in the national championship game).
Coach Thompson is legendary amongst his peers for his integrity because of the extraordinary level at which he followed up his beliefs with his actions.
Coach Thompson told recruits they would be given two years to show they were putting their education to good lifelong use. He advised them that if they were not doing honest battle with the books in their first two years, they would be invited to attend a different school. 97% of his four-year players graduated during his 27 years as the head coach.
In 1983, Thompson pulled his team off the court after multiple racist signs targeting his player, Patrick Ewing, were displayed by Villanova fans. The Georgetown Team returned to the court after all the signs were removed.
On January 14, 1989, before the start of Georgetown's home game against Boston College, Thompson walked off the Capital Centre floor and turned the coaching duties over to assistant Mike Riley. Thompson was protesting the NCAA's Proposition 42, which would prohibit partial academic qualifiers from receiving a scholarship while they sat out their freshman year athletically to focus on academics. A rule that he found to be both unfounded and unfairly attacking African American youth and their opportunity at an education. According to the Washington Post, 90 percent of the 600 student athletes impacted by the rule were African American. Precipitated by Thompson's protest the NCAA modified the rule in 1990.
In the late 1980s, Thompson invited noted Washington, D.C. drug lord Rayful Edmond III to his on-campus office and told him to stop trying to associate with any of his players socially and to stop wearing any Georgetown apparel. Thompson did not care about Edmond's crew's violent reputation or propensity to commit murder (his crew was connected to at least forty homicides).
Edmond never again attempted to associate with another Hoyas player or wear Hoya gear. It was believed that Thompson was the only person to stand up to Edmond without consequence.
Do you back up your beliefs with action?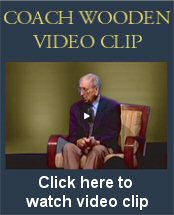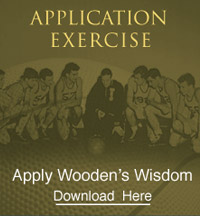 COACH'S FAVORITE POETRY AND PROSE
The Struggle
Life is a struggle for peace,
A longing for rest,
A hope for the battles to cease,
A dream for the best;
And he is not living who stays
Contented with things,
Unconcerned with the work of the days
And all that it brings.

He is dead who sees nothing to change,
No wrong to make right;
Who travels no new way or strange
In search of the light;
Who never sets out for a goal
That he sees from afar
But contents his indifferent soul
With things as they are.

Life isn't rest- it is toil;
It is building a dream;
It is tilling a parcel of soil
Or bridging a stream;
It's pursuing the light of a star
That but dimly we see,
And in wresting from things as they are
The joy that should be.

Edgar Allen Guest (1881-1959)