"CURIOSITY: A CORNERSTONE OF COMMITMENT" (BILL RUSSELL)
In Bill Russell's 13 years in the NBA (1956-69) his Boston Celtics won 11 championships. For the last two championships (1968 and 1969) he was the player-coach. He led USF to back to back NCAA Championships and followed that up with an Olympic Gold Medal. Sports Illustrated named him "the greatest team player in history." and HBO recognized Russell as "the greatest winner of all time." He played basketball for 21 seasons and won 18 championships.
In 2001 Russell,with David Falkner, published a fantastic book, Russell Rules, in which he detailed eleven lessons in leadership. His first rule is "Commitment begins with curiosity".
In his book Coach Russell expands on the idea:
"Commitment in my mind is the common denominator separating those who live their dreams from those who live their lives regretting the opportunities they have squandered. What differentiates those who see and pursue the power of commitment versus those who can't? One word: curiosity. Curiosity is the oxygen of accomplishment and success.
The goal of winning slips away with the loss of curiosity. Though curiosity is a child's possession, an adult can use it consciously as a tool, can develop it in the building of a winning strategy. Good questions are more important than easy answers. The "silly question" is often not silly at all, it's the beginning of a new pathway toward a solution."
The leader should encourage and find team members who want to know why and how things work and whether there is a better way. "The only bad questions are the ones that are not asked." Unless you are in the CIA "Need to know" is not a winning strategy. Russell makes this clear in his book:
"When commitment is coerced, thinking is not required—just obedience. Curiosity on the other hand, is the arch-stone of that thinking process that leads to doing. Curiosity is connected to doing, to solving, experimenting, trying, failing, and then accomplishing. "How does this work?" "What do I do?" "What happens next?" "What do I do to make this turn out the way I want—or the way you want?" Those are all basic questions that stem from curiosity, but that are also basic to winning."
When curiosity stops, progress ends and commitment dies.
Do you encourage or discourage the curiosity of others?
What are you curious about?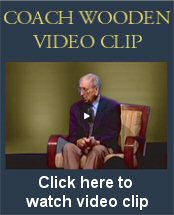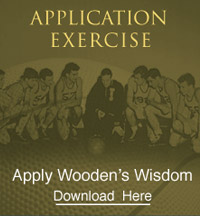 COACH'S FAVORITE POETRY AND PROSE
The Comedian
Whatever the task and whatever the risk, wherever
the flag's in air,
The funny man with his sunny ways is sure to
be laughing there.
There are men who fret, there are men who
dream, men making the best of it,
But whether it's hunger or death they face,
Or burning thirst in a desert place,
There is always one, by the good Lord's grace,
Who is making a jest of it.

He travels wherever his brothers go and he leaves
his home behind him,
The need for smiles he seems to know; in the
ranks of death you'll find him.
When some are weary and sick and faint, and
all with the dust are choking,
He dances there with a spirit gay,
And tints with gold what is drab and gray,
And into the gloom of the night and day
He scatters his mirthful joking.

He wins to courage the soul-tried men; he lightens
their hours of sorrow;
He turns their thoughts from the grief that is to
the joy that may come to-morrow.
He mocks at death and he jests at toil, as one
that is never weary;
He japes at danger and discipline,
Or the muddy trench that he's standing in;
There's nothing can banish his merry grin,
Or dampen his spirits cheery.

The honors of war to its heroes go; for them are
the pomp and glory,
But seldom it is that the types relate a victory's
inside story.
And few shall know when the strife is done and
the history's made hereafter,
How much depended on him who stirred
The souls of men with a cheerful word,
And kept them brave by a jest absurd,
And brightened their days with laughter.

Edgar Allen Guest (1881-1959)