"BE DIRECT BUT KEEP YOUR DIGNITY." (JOHN MCCLENDON PART EIGHT)
John McClendon was the First African American head coach of a professional sports team, the First African American head coach of a predominantly white university and the First person to be enshrined in the Naismith Memorial Basketball Hall of Fame as both coach and contributor. He was a driving force in integrating basketball at all levels.
Coach McClendon's 1941 North Carolina College team caught a bus in Charleston, West Virginia, after a game and headed to another in Bluefield. The bus was crowded that evening, and there was only one seat left, next to a white woman cradling a baby in her arms.
McLendon politely asked the young woman if one of his players could sit next to her. When she responded affirmatively, McLendon told his center to sit down.
Everything was fine until the bus driver saw Thomas and the white woman in the rearview mirror. He stopped the bus mid route, angrily bolted down the aisle, and confronted McLendon. "He has to get up."
The coach calmly responded. "He doesn't have to get up."
McLendon watched the driver's rapidly reddening face and realized that he might be gambling with his life. "I knew he had a gun under his front seat," he later explained. "But more was at stake than survival." The bus driver returned to his seat and continued driving.
Once the bus moved into the mountains outside of Charleston, the bus driver pulled off the road and he returned to the back. "He can't sit there," he repeated. "I'm not moving this bus until he gets up."
McLendon knew that if he just gave in, his players would never forget it. McLendon was not about to relent. Assessing the potentially dangerous situation, he quickly made the decision to enact a strategic retreat while keeping his dignity intact.
McLendon looked calmly at the driver and then at the passengers. "Since this is such a big problem for you, and these people have to get where they're going, I'll tell you what we are going to do," he declared. "We're going to get off the bus." The players followed their coach off the bus and caught the next one to their game.
Coach McLendon had made his point, preserved the team's dignity, and averted violence. He kept his players focused on their goals rather than on the ignorance of others.
"Hate begets hate; violence begets violence. We must meet the forces of hate with the power of love. Darkness cannot drive out darkness; only light can do that." – Martin Luther King (1958)
In 1941 John McClendon was showing his players light.
What are you showing?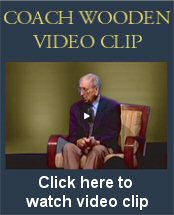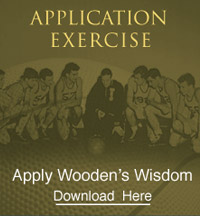 COACH'S FAVORITE POETRY AND PROSE
Toys and Life
You can learn a lot from boys,
By the way they use their toys;
Some are selfish in their care,
Never very glad to share
Playthings with another boy;
Seem to want to hoard their joy.
And they hide away the drum
For the days that never come;
Hide the train of cars and skates,
Keeping them from all their mates,
And run all their boyhood through
With their toys as good as new.

Others gladly give and lend,
Heedless that the tin may bend,
Caring not that drum-heads break,
Minding not that playmates take
To themselves the joy that lies
In the little birthday prize.
And in homes that house such boys
Always there are broken toys,
Symbolizing moments glad
That the youthful lives have had.
There you'll never find a shelf
Dedicated unto self.

Toys are made for children's fun,
Very frail and quickly done,
And who keeps them long to view,
Bright of paint and good as new,
Robs himself and other boys
Of their swiftly passing joys.
So he looked upon a toy
When our soldier was a boy;
And somehow to-day we're glad
That the tokens of our lad
And the trinkets that we keep
Are a broken, battered heap.

Life itself is but a toy
Filled with duty and with joy;
Not too closely should we guard
Our brief time from being scarred;
Never high on musty shelves
Should we hoard it for ourselves.
It is something we should share
In another's hour of care-
Something we should gladly give
That another here may live;
We should never live it through
Keeping it as good as new.

Edgar Albert Guest (1881-1959)