"KEEP KNOCKING." (NOLAN RICHARDSON PART ONE)
Nolan Richardson is the only coach to win a Junior College National Championship, NIT championship and a NCAA men's division one championship. He was elected to the National Collegiate Basketball Hall of Fame in 2008 and the Naismith Memorial Basketball Hall of Fame in 2014.
Coach Richardson was born and raised in the El Segundo Barrio in El Paso, Texas by his grandmother Rose Richardson known as Ol' Mama. Ol' Mama was his mentor and hero. An important life lesson is described in his biography, Forty Minutes of Hell by Rus Bradburd:
As a junior in high school Richardson was the best player on his Bowie High School baseball team. He was also the only African- American. When the team qualified for the district playoffs held in Abilene, an eight-hour drive into the heart of Texas, he was beside himself with excitement. This would be his first trip with a sports team.
Then Coach Nemo Herrera surprised Richardson by showing up at Ol' Mama's shotgun house to tell Richardson he wasn't allowed to stay with his Mexican-American teammates at the hotel in Abilene. Playing in the games wouldn't be a problem, but the coach was going to find Richardson a family to stay with in Abilene, a Negro family.
As soon as the Coach left Richardson told his grandmother he was not going on the trip. Ol' Mama looked at him hard. "You're going on the trip. You let your bat do your talking for you. If you don't go, this kind of stuff is going to go on forever. Your children will one day get to stay in those hotels. If it wasn't for Jackie Robinson, you wouldn't be able to do this, or anything else."
Richardson went to Abilene and led his team to victory with two home runs.
When he got home Ol' Mama as usual, was waiting on the porch for him to continue her lesson: "The only way you're going to make it is to keep going. You have to keep knocking on that door and when it opens a little bit—just a crack—you knock that door down!"
Coach Nolan Richardson would never stop knocking down doors! No African American was working the sidelines in major college basketball when Richardson began coaching Bowie High in 1967.
In 1985 Richardson became the head coach at the University of Arkansas and the first African American head coach in any sport at a major university in the south. In 17 seasons at Arkansas he led them to 15 postseason appearances, three final fours and the national championship in 1994. He knocked the door down and opened it for others.
Are there any doors you need to start knocking on again?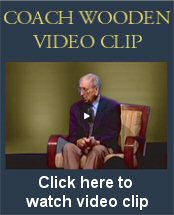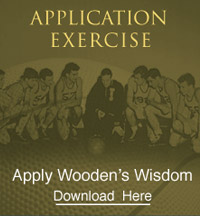 COACH'S FAVORITE POETRY AND PROSE
Love
Truth went forth on a search one day
I For the source of love that he might say
He had found its depth and its breadth for aye.

He met a miser, bent and old,
And his mission to him he promptly told;
'Love,' said the miser, 'is yellow gold.'

He sought a maiden, young and fair,
With orange blossoms in her hair,
Who whispered, 'My love is waiting there.'

To a struggling youth at last Truth came,
As he toiled and studied and spoke his name;
'Love,' said the youth, 'is a thing called fame.'

'Love!' mocked a man with features sour,
Before whom others were made to cower,
'Love! yes, love is worldly power.'

A pale, weak woman Truth chanced to see,
Rocking a baby on her knee;
'Only a mother knows love,' said she.

Edgar Albert Guest (1881-1959)