"THERE ARE PEOPLE WHO PAVE ROADS AND OTHERS WHO WALK ON THEM." (NOLAN RICHARDSON PART TWO)
Nolan Richardson is the only coach to win a Junior College National Championship, NIT championship and a NCAA men's division one championship. He was elected to the National Collegiate Basketball Hall of Fame in 2008 and the Naismith Memorial Basketball Hall of Fame in 2014.
Coach Richardson was born and raised in the El Segundo Barrio in El Paso, Texas by his grandmother Rose Richardson, known as Ol' Mama. Ol' Mama was his mentor and hero. Ol' Mama told Nolan "'You show me a person with a weak attitude, and I'll show you a weak person."
As a junior in high school Richardson was not allowed to stay in the same hotel as his Hispanic teammates during a baseball tournament in Abilene. Ol' Mama made him go play anyway, telling him: "Your children will one day get to stay in those hotels."
When Nolan was the leading scorer on the UTEP basketball team as a sophomore, his Coach Harold Davies did not take him to play in a basketball tournament at Centenary College because the school did "not allow Negroes". Nolan was angry but did not quit.
As a junior at UTEP he returned to the same hotel in Abilene that had banned him when he was a high school baseball player with his new basketball coach, Don Haskins. When the UTEP team walked into the Abilene hotel lobby, the manager came scurrying over. "No coloreds!" he said. "So, I told him to hell with him and his hotel, We all stayed somewhere else. The next year we were in Salt Lake City, and the same thing happened. We got out of there, too." Haskins recalled in the Richardson biography Forty Minutes of Hell by Rus Bradburd. In his book Bradburd described what happened next:
In 1979 Western Texas Junior College qualified for the state playoffs in Abilene with their new coach Nolan Richardson. The travel itinerary made Richardson smile. They had reservations at the same hotel that had banned him twice. For his pregame talk Richardson gathered his diverse squad on the sidewalk and stood on the steps, recounting his shame and anger at twice not being allowed to room in that very hotel. Then Richardson quoted his ace, Ol' Mama. "There are people who pave roads and others who walk on them."
Are you a paver or a walker?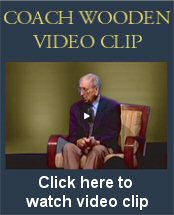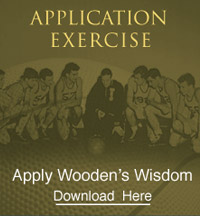 COACH'S FAVORITE POETRY AND PROSE
Satisfied With Life
I have known the green trees and the skies overhead
And the blossoms of spring and the fragrance they shed;
I have known the blue sea, and the mountains afar
And the song of the pines and the light of a star;
And should I pass now, I could say with a smile
That my pilgrimage here has been well worth my while.

I have known the warm handclasp of friends who were true;
I have shared in their pleasures and wept with them, too;
I have heard the gay laughter which sweeps away care
And none of the comrades I've made could I spare;
And should this be all, I could say ere I go,
That life is worthwhile just such friendships to know.

I have built a home where we've loved and been glad;
I have known the rich joy of a girl and a lad;
I have had their caresses through storm and through shine,
And watched them grow lovely, those youngsters of mine;
And I think as I hold them at night on my knee,
That life has been generous surely to me.

Edgar Albert Guest (1881-1959)