"GOOD CHARACTER CREATES GOOD INSTINCT." (NOLAN RICHARDSON PART FOUR)
Nolan Richardson is the only coach to win a Junior College National Championship, NIT championship and a NCAA men's division one championship. He was elected to the National Collegiate Basketball Hall of Fame in 2008 and the Naismith Memorial Basketball Hall of Fame in 2014.
Nolan Richardson is a person of good character, as a result his instincts are good because they are motivated to help others. On April 3,1994 Coach Richardson was concerned. The next day he would face Duke and their College Player of the year Grant Hill for the National Championship.
In Nolan Richardson's biography Forty Minutes of Hell, Rus Bradburd described what happened next:
"Coach Richardson found himself pondering one of Arkansas's little-used substitutes, a senior named Ken Biley. Biley was an undersized post player who had hardly played in the first five playoff games leading up to the NCAA title match—a total of four minutes. Biley was raised in Pine Bluff. Neither of his parents had the opportunity to go to college, but every one of his fifteen siblings did, and nearly all graduated. "I had already learned that everybody has to play his role," Biley says of his upbringing.
Richardson couldn't stop thinking about Biley, and what a selfless worker he had been for four years. The day before the championship game against Duke, at the conclusion of practice, Richardson pulled Biley aside. "I've watched how your career has progressed, and how you've handled not getting to play," Richardson began. "I appreciate the leadership you've been showing, and I want to reward you, as a senior." "Thanks coach," Biley said.
He was unprepared for what came next. "You're starting tomorrow against Duke," Richardson said. "And you're guarding Grant Hill." Biley was speechless. Richardson had disdained book coaches for years. Now he was throwing the book in the trash by starting a benchwarmer in the NCAA championship game.
As expected, Ken Biley would play less than four minutes and did not score a basket. But he harassed Grant Hill, using his long arms and great lateral movement to hassle the All-American."
Hill played point guard at the start and Biley was disruptive helping Arkansas get off to a good start. Fueled by Coach Richardson's "Good Instinct", Arkansas defeated Duke 76-72 and won their first ever National Championship.
What's the motivation for your instincts?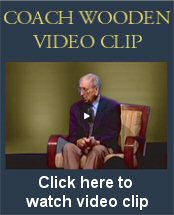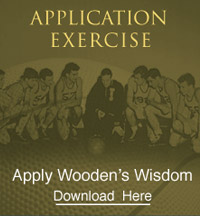 COACH'S FAVORITE POETRY AND PROSE
Life
Life is a jest;
Take the delight of it.
Laughter is best;
Sing through the night of it.
Swiftly the tear
And the hurt and the ache of it
Find us down here;
Life must be what we make of it.

Life is a song;
Let us dance to the thrill of it.
Grief's hours are long,
And cold is the chill of it.
Joy is man's need;
Let us smile for the sake of it.
This be our creed:
Life must be what we make of it.

Life is a soul;
The virtue and vice of it.
Strife for a goal,
And man's strength is the price of it.
Your life and mine,
The bare bread and the cake of it,
End in this line:
Life must be what we make of it.

Edgar Albert Guest (1881-1959)