"TAKE THE BEST, LEAVE THE REST, BE ORIGINAL." (NOLAN RICHARDSON PART FIVE)
Nolan Richardson was the architect of his own unique basketball system which led to him being the only coach to win a Junior College National Championship, NIT championship and a NCAA men's division one championship. He was elected to the National Collegiate Basketball Hall of Fame in 2008 and the Naismith Memorial Basketball Hall of Fame in 2014. His combination of an unpredictable pressing defense and relentless Fastbreak executed at full throttle with great discipline, conditioning and toughness became referred to as "Forty Minutes of Hell".
In 1968 as a first-time high school coach at Bowie High School in El Paso, Richardson started with many of the same principles he had learned from his last college coach Don Haskins. He adopted Haskins's tough-minded defense, mental toughness, and sound fundamentals. He did not like the slow, ball control pace Haskins had played at. As a sophomore at UTEP Richardson enjoyed playing in Harold Davies (Haskins predecessor) up-tempo system while averaging over 20 points a game.
Richardson would teach tough defense (Haskins) and up-tempo (Davies)
Richardson also enjoyed the close personal relationship he had with Davies as opposed to his more distant relationship with Haskins. On the other hand, he had been extremely disappointed with the way Davies handled a segregation issue and admired the way Haskins stood up to racism in all situations.
Richardson made his teams part of his family. Players often spent leisure time at his home and ate family meals with the Richardson's (a better version of Davies). No Coach was ever stronger and more outspoken against racism than Nolan Richardson (a better version of Haskins).
Richardson studied and copied elements of his fast break and press from local legend Alvis Glidewell's Austin High School teams. Glidewell had studied and utilized knowledge he had gained attending coaching clinics taught by John Wooden.
Richardson then took his full court press to another level by studying Hobbs High New Mexico legend Ralph Tasker, who won 1,122 games and eleven state championships. "Hobbs would come into El Paso and destroy our best teams," Richardson recalls in his biography, Forty Minutes of Hell by Rus Bradburd. "They pressed every minute, but it was more extended, more exciting, than what Alvis Glidewell was doing. So, I copied Tasker's system, too. Later I took it a step further by teaching my kids not to trap at the same time or place. I wanted us to be more difficult to prepare for."
Nolan Richardson took only the best from each of these coaches and then with his own original ideas took what learned to another level with creativity and innovation built on a sound foundation.
"Take the Best, Leave the Rest, Be Original."
Who are you studying? What are your original ideas?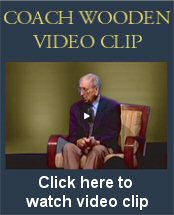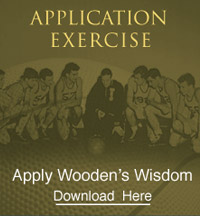 COACH'S FAVORITE POETRY AND PROSE
Life's Tests
If never a sorrow came to us,
and never a care we knew;
If every hope were realized,
and every dream came true;
If only joy were found on earth,
and no one ever sighed,
And never a friend proved false to us,
and never a loved one died,
And never a burden bore us down,
soul-sick and weary, too,
We'd yearn for tests to prove our worth
and tasks for us to do.

Edgar Albert Guest (1881-1959)