"GREAT TEAMWORK REQUIRES HUMILITY." (C. VIVIAN STRINGER PART TWO)
C. Vivian Stringer is the head coach of the Rutgers University Women's Basketball Team. She is the sixth winningest coach in women's basketball history and was inducted into the Basketball Hall of Fame in 2009. She is the first coach in NCAA history to lead three different women's programs to the NCAA Final Four: Rutgers, University of Iowa, and Cheyney State College in 1982.
From 1972 to 1982 while Stringer was the Women's Coach at Cheyney State, Hall of Fame former Temple Coach John Chaney was the Men's Coach. Chaney and Stringer both won 80% of their games during that span. Their unparalleled co-success was accomplished with inadequate facilities.
This was accomplished with Great Teamwork between Coach Stringer and Coach Chaney who put any gender coaching egos aside. In her fantastic autobiography, Standing Tall, Coach Stringer describes how they did that:
"One of my angels was my friend and teacher Coach John Chaney. He came from being the best coach in the Philadelphia high school system to take the position of coach of the men's team at Cheyney. As soon as I met Coach Chaney, I immediately understood that he was truly one of the great minds of the game and I was so grateful that he accepted me as a disciple.
The gym at Cheyney was not a large space to begin with, and it was divided down the center by this flimsy partition, so that neither of us had a proper-sized gym. Scheduling practices around one another was a huge hassle, so we finally came up with the idea of doing practices together. There's nothing male or female about learning basketball. We were playing the same game, after all—why shouldn't men and women practice the fundamentals together?
The men on John's teams followed his lead: they showed us nothing but respect and treated us as equals. John and I would meet before practice, coming up with themes and designing the best session we knew how. We spent hours talking basketball philosophy, and when we met with our teams, we'd alternate he'd lecture one day, I'd do the next. Those practices were something to see we weren't playing women's basketball or men's basketball—just plain basketball. We'd set up a circuit of drills, doing defensive slides or practicing shooting skills or rebounding. When the timer buzzed, the whole room would rotate to the next station. At the end of practice, we'd separate and put the partition up again to develop our teams separately and to scrimmage."
How is the teamwork on your staff?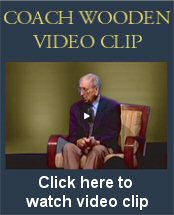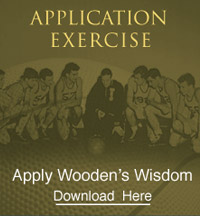 COACH'S FAVORITE POETRY AND PROSE
The Inn-Keeper Makes Excuses
Oh, if only I had known!'
Said the keeper of the inn.
'But no hint to me was shown,
And I didn't let them in.

'Yes, a star gleamed overhead,
But I couldn't read the skies,
And I'd given every bed
To the very rich and wise.

'And she was so poorly clad,
And he hadn't much to say!
But no room for them I had,
So I ordered them away.

'She seemed tired, and it was late
And they begged so hard, that I
Feeling sorry for her state,
In the stable let them lie.

'Had I turned some rich man out
Just to make a place for them
'Twould have killed, beyond a doubt,
All my trade at Bethlehem.

'Then there came the wise men three
To the stable, with the morn,
Who announced they'd come to see
The great King who had been born.

'And they brought Him gifts of myrrh,
Costly frankincense and gold,
And a great light shone on her
In the stable, bleak and cold.

'All my patrons, now are dead
And forgotten, but to-day
All the world to peace is led
By the ones I sent away

'It was my unlucky fate
To be born that Inn to own,
Against Christ I shut my gate—
Oh, if only I had known!'

Edgar Albert Guest (1881-1959)