"LOVE AND ACCOUNTABLY ARE GREAT TEAMMATES." (C. VIVIAN STRINGER PART FIVE)
C. Vivian Stringer is the head coach of the Rutgers University Women's Basketball Team. She is the sixth winningest coach in women's basketball history and was inducted into the Basketball Hall of Fame in 2009. She is the first coach in NCAA history to lead three different women's programs to the NCAA Final Four Rutgers, University of Iowa, and Cheyney State College in 1982.
In her fantastic autobiography, Standing Tall, Coach Stringer describes how she recruited talent good enough at Cheney State to play in the Division One National Championship Game when she had no scholarships to offer.
"One of the biggest obstacles to building a powerhouse program was that I had no scholarship money to attract recruits. So, I burnt out a couple of my own cars driving to the playgrounds in New York and Delaware to see promising players.
My early attempts were not successful, so I asked myself, Why on earth would someone whose child has been offered a scholarship from another school send them to play for you, Vivian? I found the answer by thinking of my own parents and of what they wanted for their children.
So, the next time I went on the road to recruit, this is what I told the mothers of the girls I wanted to bring to Cheyney: "I will take care of your daughter with the devotion of a loving mother. I will treat her just as you would. I will hold her hand when she needs help, and I will get on her case when she needs shaking up. I will make sure she graduates and do everything else in my power to make sure that she turns into the young woman you want her to be. Please trust me to guide her for the next four years, and I guarantee that I will be a part of her life for the next forty."
I didn't automatically turn away the girls with difficult histories. Many of the girls on my teams have come from backgrounds ranging from the simply underprivileged to the seriously troubled.
I've coached kids from the worst projects, kids from families so broken you can't even call them families. I always tell them, "You can look at your past and you can see it as a burden, keeping you down. Or you can draw strength from what has happened to you, and you can use that strength to make your own path."
Is your past a burden or do you draw strength from it?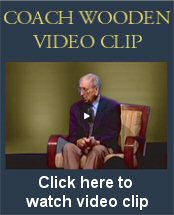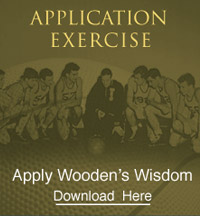 COACH'S FAVORITE POETRY AND PROSE
Be A Friend
Be a friend. You don't need money;
Just a disposition sunny;
Just the wish to help another
Get along some way or other;
Just a kindly hand extended
Out to one who's unbefriended;
Just the will to give or lend,
This will make you someone's friend.

Be a friend. You don't need glory.
Friendship is a simple story.
Pass by trifling errors blindly,
Gaze on honest effort kindly,
Cheer the youth who's bravely trying,
Pity him who's sadly sighing;
Just a little labor spend
On the duties of a friend.

Be a friend. The pay is bigger
(Though not written by a figure)
Than is earned by people clever
In what's merely self-endeavor.
You'll have friends instead of neighbors
For the profits of your labors;
You'll be richer in the end
Than a prince, if you're a friend.

Edgar Albert Guest (1881-1959)